Notice
Meatball Racing VRC Live is suspended temporarily due to lack of interest. This is primarily because there are several other well established and well followed clubs already racing. I recommend joining these VRC clubs while they're hot:
Other clubs that ran through May 2020:
Meatball Racing might fire it back up once quarantine is lifted. We enjoy virtual racing to fill the gaps between trips to the track. Keeping the original information below here for future reference.
---
What is it?
Live, off-road, virtual RC racing with your friends every Thursday night at 8PM central time on VRC – hosted and sponsored by Meatball Racing! VRC is a virtual RC racing game for PC. It is free to play with some tracks and vehicles and we always host a FREE night on the first Thursday of the month. It's a great way to try VRC and decide if you like it before purchasing a subscription.
How it works
VRC Setup
Sign up on VRC if you haven't already. List info@meatballracing.com as your referrer – it helps us cover server costs!
Join the Meatball Racing club on VRC.
Make sure your VRC setup is in good working order.
Join the Meatball Racing discord.
Qualify before Thursday night.
Race live with your friends on Thursday night.
Qualifying
Meatball Racing will set up a virtual qualifying event that you can do on your own time, anytime between Saturday and Thursday at 7PM central time. You can find these events on the Meatball Racing club events page and in VRC by going to Events and clicking enter event after selecting the one hosted by Meatball Racing.
Practice for the qualifying event as much as you want. You'll be given three (3) opportunities to run a 5-minute qualifier (by selecting race) and improve your position for Thursday's live race.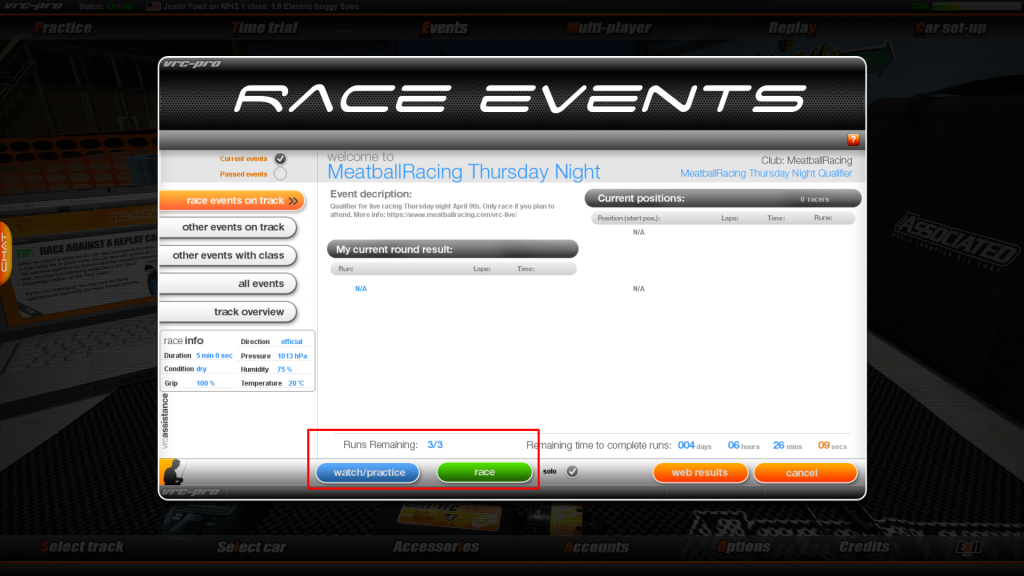 You must qualify before Thursday night so we can establish who is in what main (A, B, C, etc.). If you simply show up during the live race, we may not let you race – no sandbaggers! If it's a slow night, we might let you race. But racing your way from the C Main up to the A Main is unfair to the other drivers who might otherwise bump-up.
There is a Meatball Racing discord that we use live on Thursday night, but you should use it during the week. Ask for setups if you could use one in the #general channel. If you have a setup to share, post it in #setups-only.
Live Schedule
If you raced a qualifier, join us on Thursday night to race live with your friends. Information like mains event passwords and who is in what main can be found on the Meatball Racing discord #race-passwords-only channel at 8PM.
8PM – Open practice
8:30 – 1st Main
8:45 – 2nd Main
9:00 – etc. (as needed)
Open Practice
To promote live racing, the open practice sessions are purposefully not password protected. We want curious players to join and see what's going on so we can invite them to race next week.
Meatball Racing will start a 10-car open practice session on the race server at 8PM. If there are more than 10 drivers, other drivers are encouraged to create additional multi-player open practice sessions.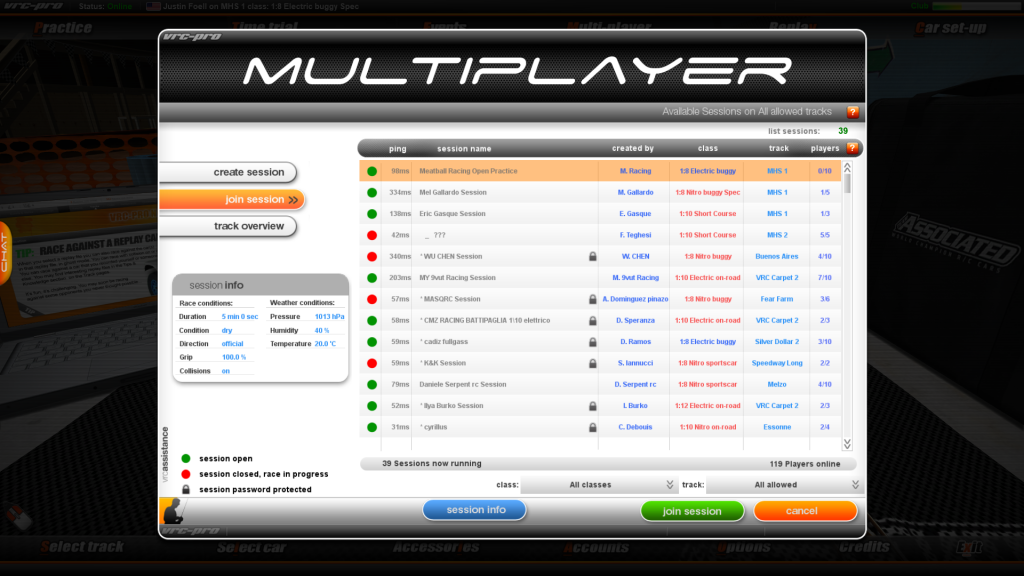 Racing Live
Passwords and the drivers lists for all of the main races will be posted in the Meatball Racing discord #race-passwords-only channel at 8PM.
Main-style races start at 8:30PM central time. Mains are 8-person races with the last 2 spots reserved for bump-ups. The top two finishers of the lower mains will bump up to the next main. The A-main is 10 drivers – the top 8 qualified drivers, and 2 bump-ups from the B-Main. Bump-ups will be confirmed in discord.
Each main will run a quick 2-minute qualifier to determine running order within the main. Each main will be 8 minutes unless we're doing a special event.
History
In 2020, during the Coronavirus pandemic, most RC tracks were closed and people were quarantined in their homes. Continuing on the ideas established by its predecessor, Thursday Night Live, Meatball Racing sponsored a new club for live virtual RC racing so we can still compete and stay sharp, during quarantine and beyond.