Now that I got my ham license and some FPV equipment, I needed a way to set it up so that it's usable at the flying field. Also, don't let the title fool you – most of the money ($75) was spent on the FPV system itself, (including camera!). Other parts I was able to borrow or steal…
I started with the two-monitor portable DVD system that my kids use to watch movies on road trips. The 1st monitor is the "brain" that has the DVD player. The 2nd monitor simply accepts power and an A/V signal from the 1st. I stole this monitor for use with my ground station. I tested it by powering it on through the cigarette lighter jack and then hooking it up to the FPV receiver. With the FPV transmitter off I saw static instead of the dreaded "blue screen" – which is good!


I have a tripod that I rarely use, so I set about to fasten the monitor to it. I cut a piece of plywood to match the shape of the tripod quick release. After testing the fit, I glued it to a slightly bigger piece of plywood that would serve as the mount for the monitor.
I added 3M Dual-Lock (much stronger than velcro) strips to hold the monitor to the mounting plate. Then it can sit on the tripod, and the headrest straps can go over the mount for extra insurance.
Rather than trying to find a compatible power jack for the DVD monitor, I decided to instead to cut the original cable and splice in a JST connector. That way the cigarette adapter can stay in the car and I can poach the monitor and cables for an FPV flight.
To power the ground station I'm using a cheap 3S battery that I already had. I fastened it and the FPV receiver to the back of the monitor. A JST "Y" cable was all that was needed to complete the wiring.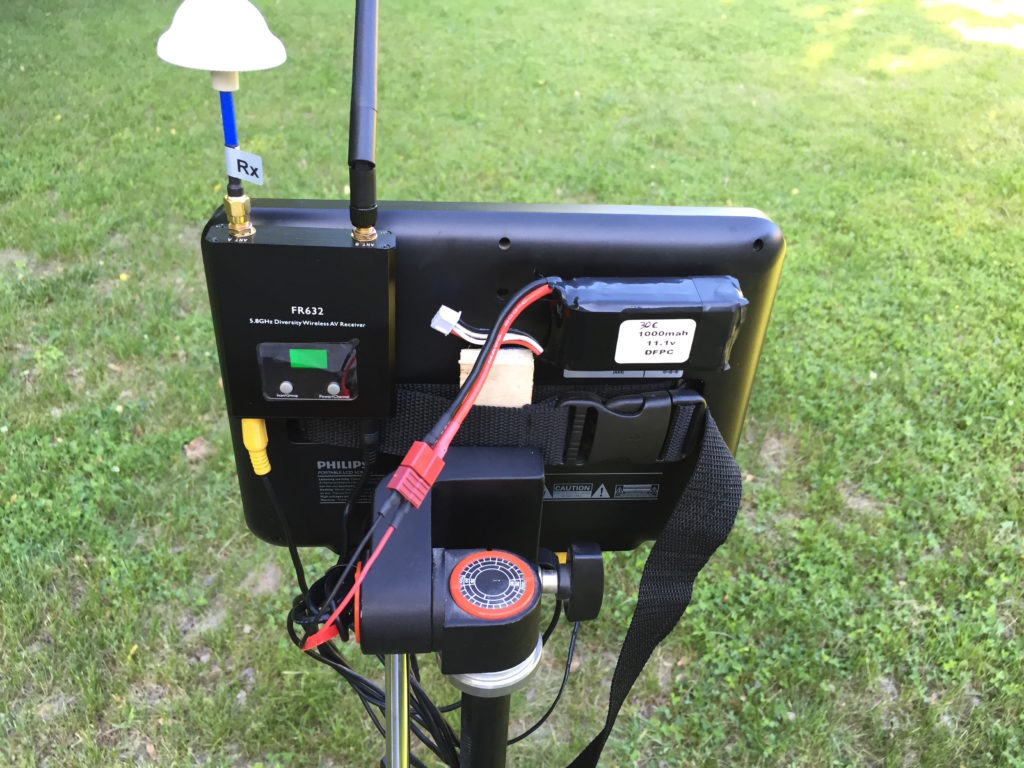 To complete the setup, I crafted a monitor hood out of Dollar Tree foam board – the black stuff. I cut a standard top rectangle and side triangles, and then made some "hooks" to hold the hood on the corners of the monitor.
If you're interested in specifics about the foam board hood, let me know in the comments!