Installing a Rustler bumper upside-down on a 2wd Slash is a popular option for creating an on-road or rally style bumper cheaply and easily. Many people that have customized their Slashes for drag racing, rallying, or top-speed runs are already doing this. I got the idea from the Traxxas Slash Modified group on facebook – one of the most helpful (and positive) resources out there. I wanted to document the steps and parts I used to do create mine for a rally car conversion.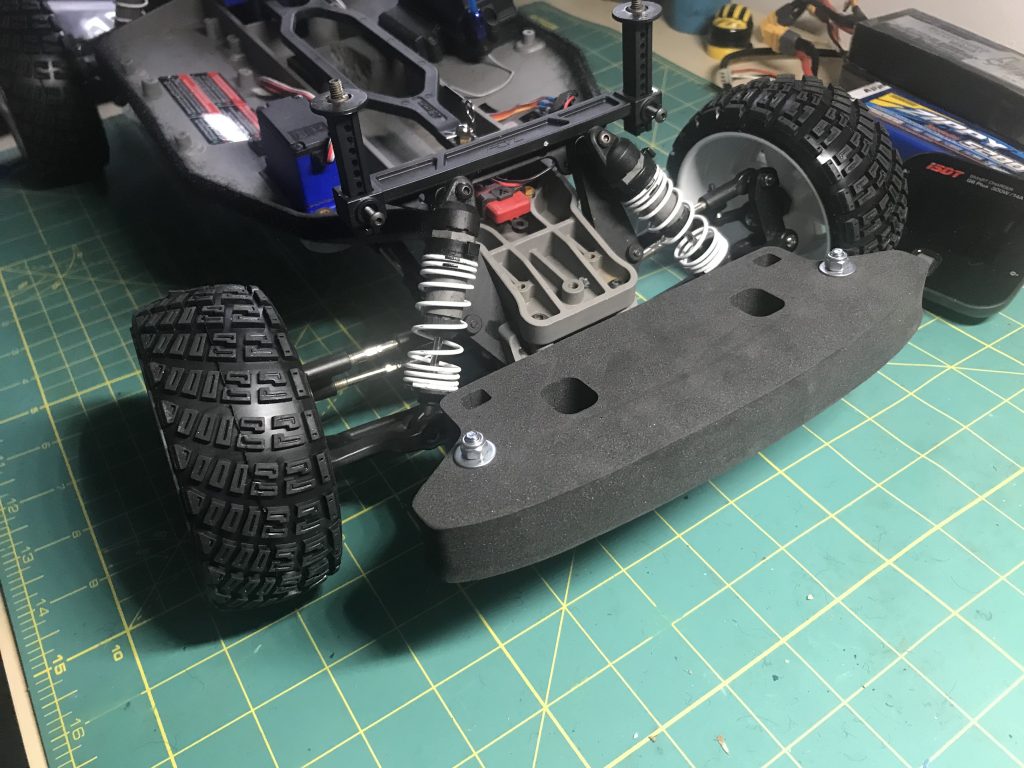 Parts:
(2) 4x14mm Button Head Screws
(2) 4x35mm Tapered Head Screws
(2) 4mm Fender Washers
(2) 4mm Lock Nuts
Tools:
Pre-built Solution
Before I built a bumper, I had originally looked at this out-of-the-box foam bumper from Integy:
However it extends 92mm (more than 3 1/2 inches) beyond the front of the gray chassis tub. This might be fine for a long-nose speed run body, but not for a short-overhang rally body.
Custom Solution
Making my own bumper out of the RPM Rustler bumper wound up being cheaper and it also fit better because I could customize the dimensions.
Installation of the RPM bumper itself is simple – just install it upside down.  Because the RPM bumper is made to use the stock counter-sunk screws, I designed and 3D printed some M4 tapered head screw inserts. Installing them should take some of the strain off of the bumper when you tighten it down.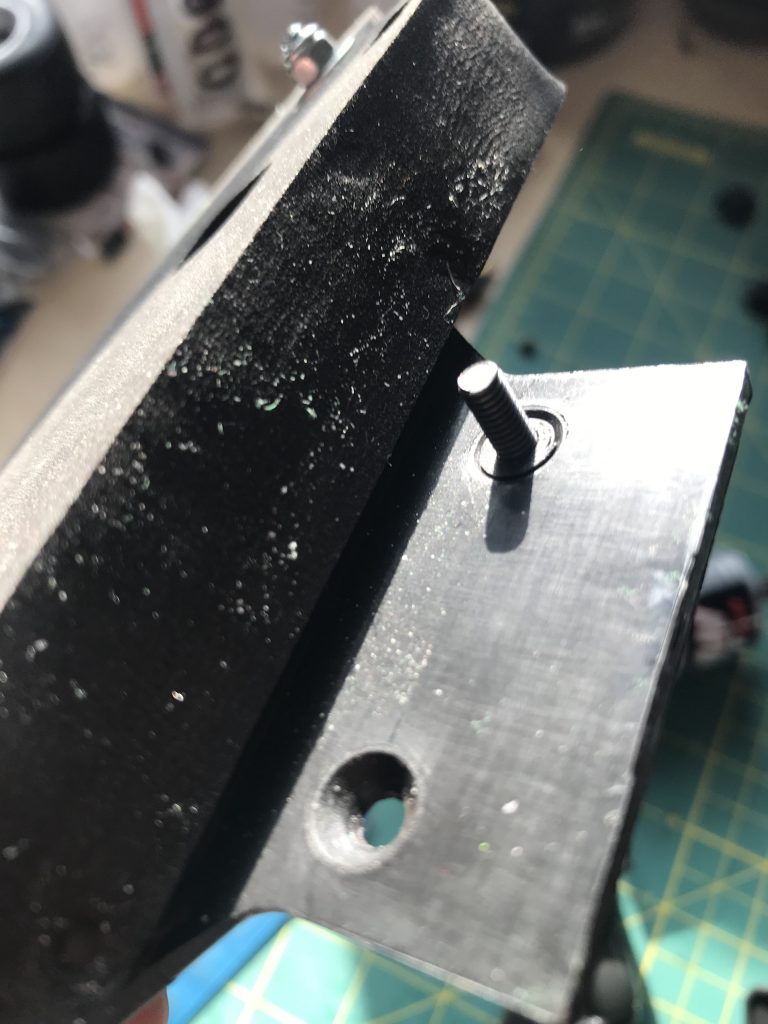 All of the hardware I used I got at the hardware store. I've found Ace and my local Do-It-Best has a better metric selection than the big-box home improvement stores.
Use 4x14mm button head screws (something slightly longer than stock) that will sit flat on the bumper plastic. Because the Slash has 4 bumper screws and the Rustler has 2, you have a couple of mounting options, depending on how far forward you want the bumper to extend.
There are two indentations on the RPM Rustler bumper that make for perfect counter-sunk M4 screw holes. Just drill them out with a 4mm drill bit. Metric drill bits seem to be easier to find at US hardware stores these days. If you can't find one, a 5/32″ will probably work.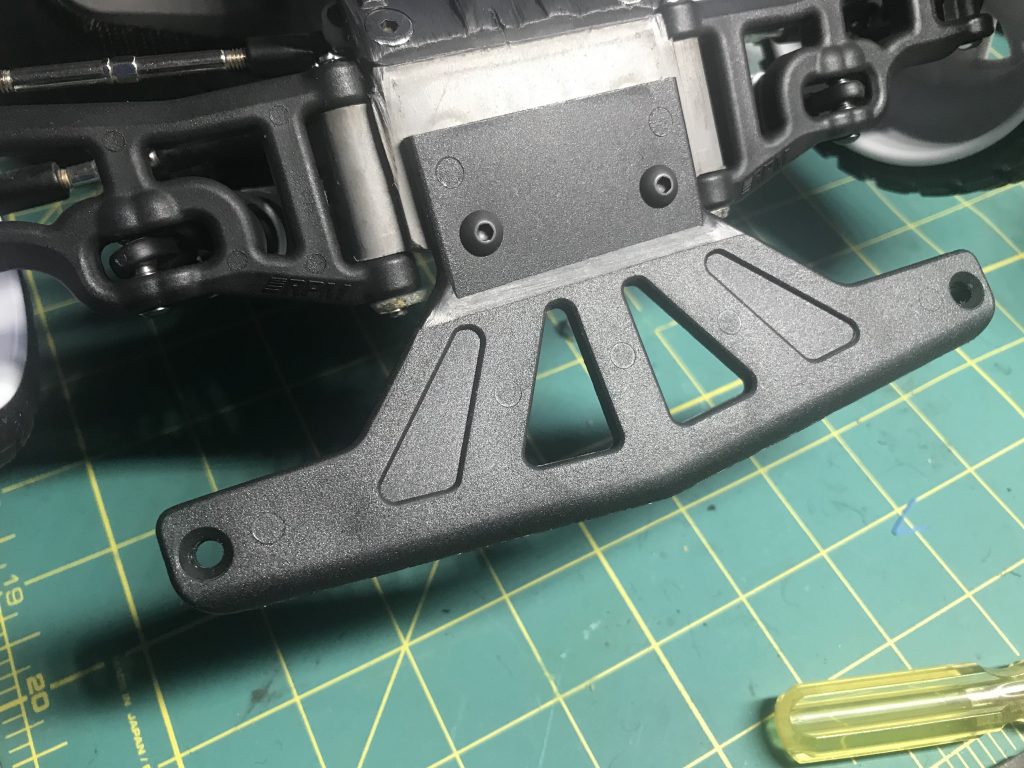 Put your body on and test fit how much overhang you want your bumper foam to have. You can mark the foam with a paint pen through the bumper holes. I wanted mine flush up against the chassis.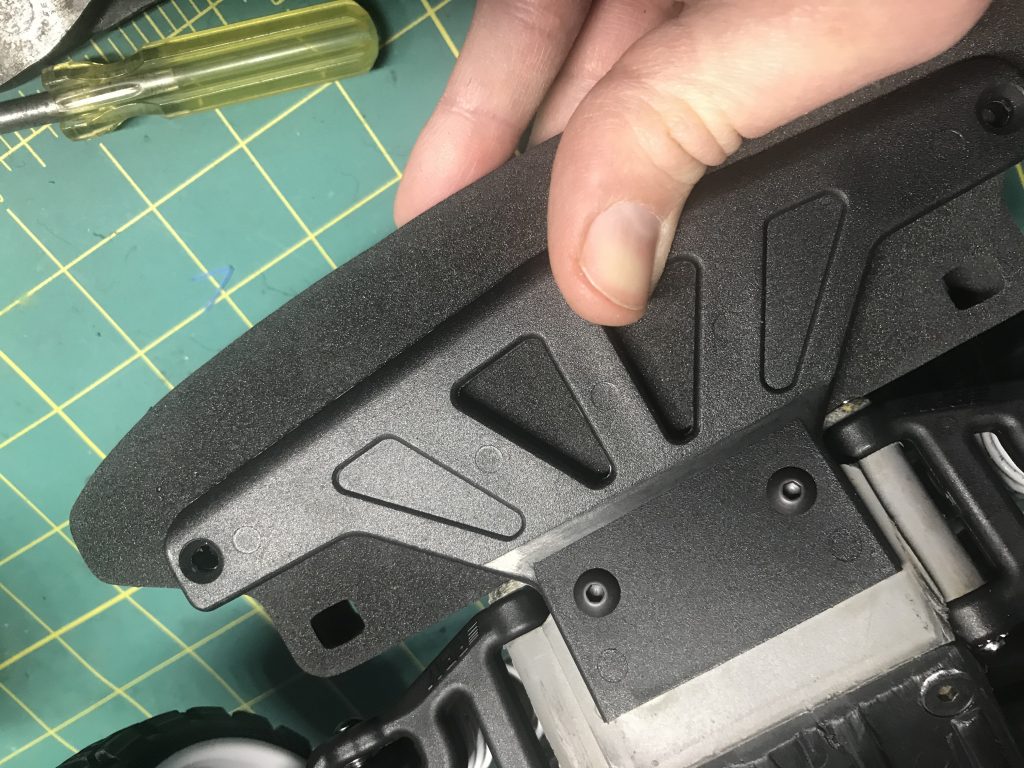 With the foam holes marked, drill them out. I simply did mine while holding the foam in place against the chassis and bumper.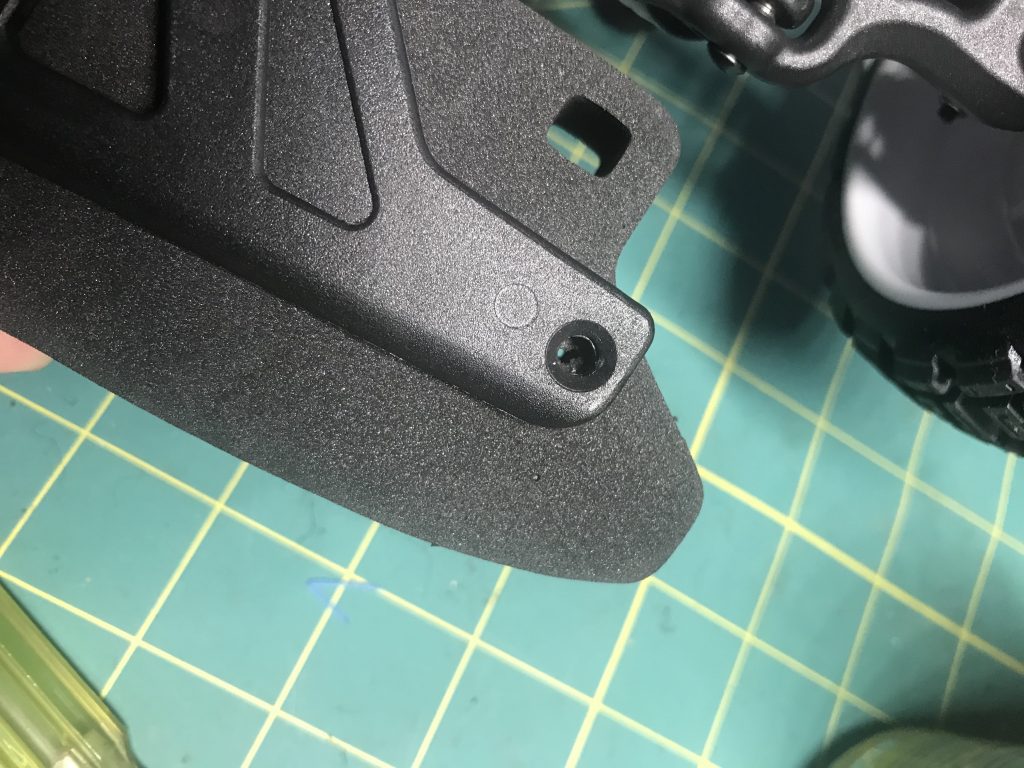 Fasten it all up by putting two 4x35mm tapered head screws through the bottom.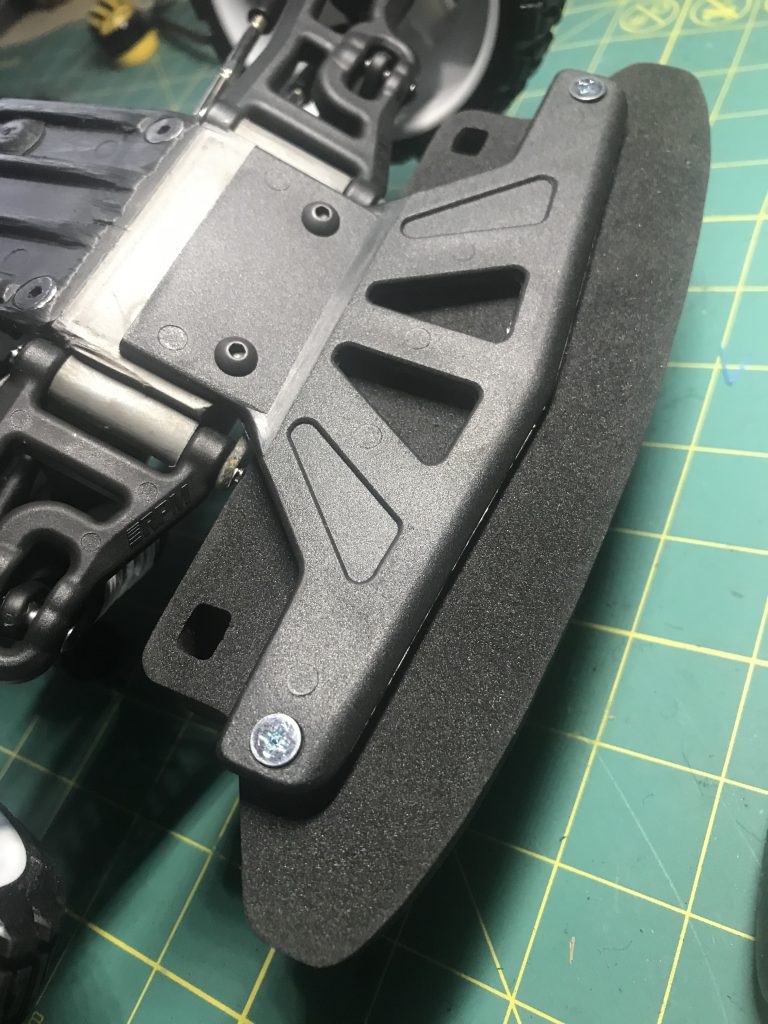 Add washers and 4mm nylock nuts on top.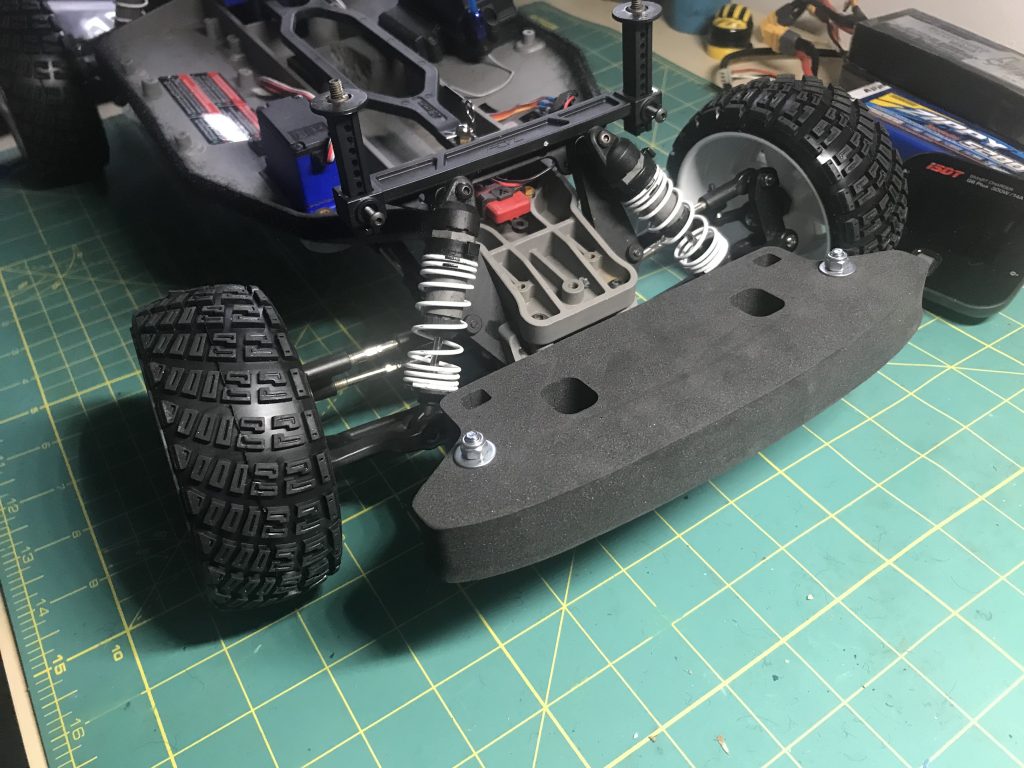 Now I'm ready to rally!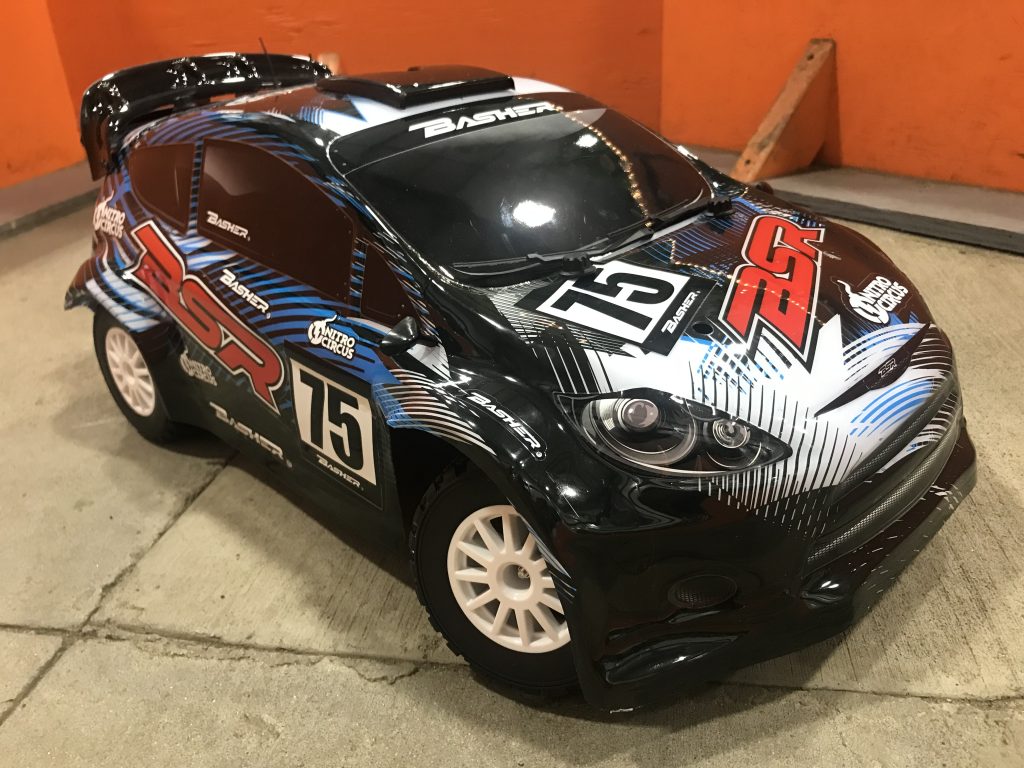 More information on this complete rally build is coming up. Are you doing something similar? If you're interested in a set of those M4 counter-sunk screw inserts and don't have access to a 3D printer, comment below and I can print and send you a pair.