Every year, we put some sort of motorized conveyance under the tree. In the past it's been an HO scale train or slot cars from my childhood. While I like the nostalgia of them, let's face it – I'm old which means they're old. So they're a little finicky to get working well. Still fun, but this year I wanted to try something new.
I've always wanted to have an indoor model train layout, but since we don't have room I turned my thoughts to doing an outdoor layout 🤔 But that always seemed extremely expensive. Then a couple ideas came together for me: 1) my #1 Christmas gift item is a 1/24 scale crawler – Axial's SCX24 and 2) I found a G-scale train set for less than $50.
Trains
I found several Lionel Ready-To-Play train sets at Wall 2 Wall Deals – it's a small Unclaimed Freight or Derailed Commodities type of store. We opted for the Frozen and North Pole Central sets – each set was less than $50 out the door.
These models are essentially G (garden) scale – which is traditionally 1:22.5 scale. The Lionel Ready-To-Play (RTP) trains are actually the same rolling stock that they use for their G-guage trains – you can read this article about converting between RTP and G-gauge. However, the RTP trains run on a slightly wider 2″ (50mm) track than the G-guage standard of 45mm.
So I give up compatibility with other brands of garden scale trains and track, but at this price, I don't really care. Plus I can 3D print additional track.
The trains are battery powered and remote controlled. I was hoping that by buying two sets, we could bind both engines to the same controller, but I tried and it doesn't work. I still might design some sort of 3D printed rig so we can have a double header:
Next spring, I'm going to see what I can do outside, but spinning around the Christmas tree right now is fun enough.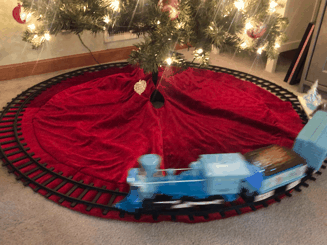 Vehicles
The apple of my eye has been these fantastic Axial 1/24 scale crawlers. I've watched just about every RC Sparks TV episode about these rigs and I want to build a crawling course for mine. But you don't need to build a course to have fun. I drove mine all over the gift boxes Christmas morning. They're incredibly capable and there are a ton of option parts available.
Something I'm looking forward to is putting the SCX24 in my bike trunk, and heading to the nearby nature trail for some crawlin'.
Figures
When we had the slot car set out, I found this little guy tucked in with everything.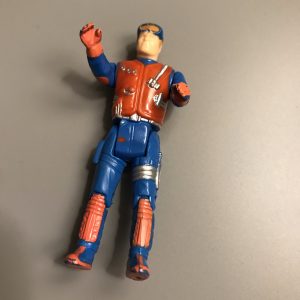 I recognized him from my youth – he was a figure from a cartoon & toy line called M.A.S.K. After a bit of eBay browsing I found he's called Dusty Hayes and he originally came with a Jeep that turned into a boat.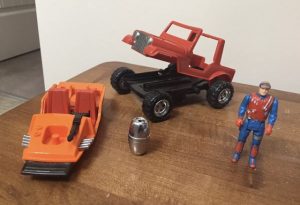 He traveled 30 years to get here – he deserves an upgrade from a 70s CJ to a brand new JLU Wrangler. M.A.S.K figures were made by Kenner – who also made the Star Wars line. They have the same articulating legs, just at a smaller 3-inch size – perfect for 1/24 scale.
If you don't mind being a blockhead – Minecraft figures are also 3 inches tall 🧱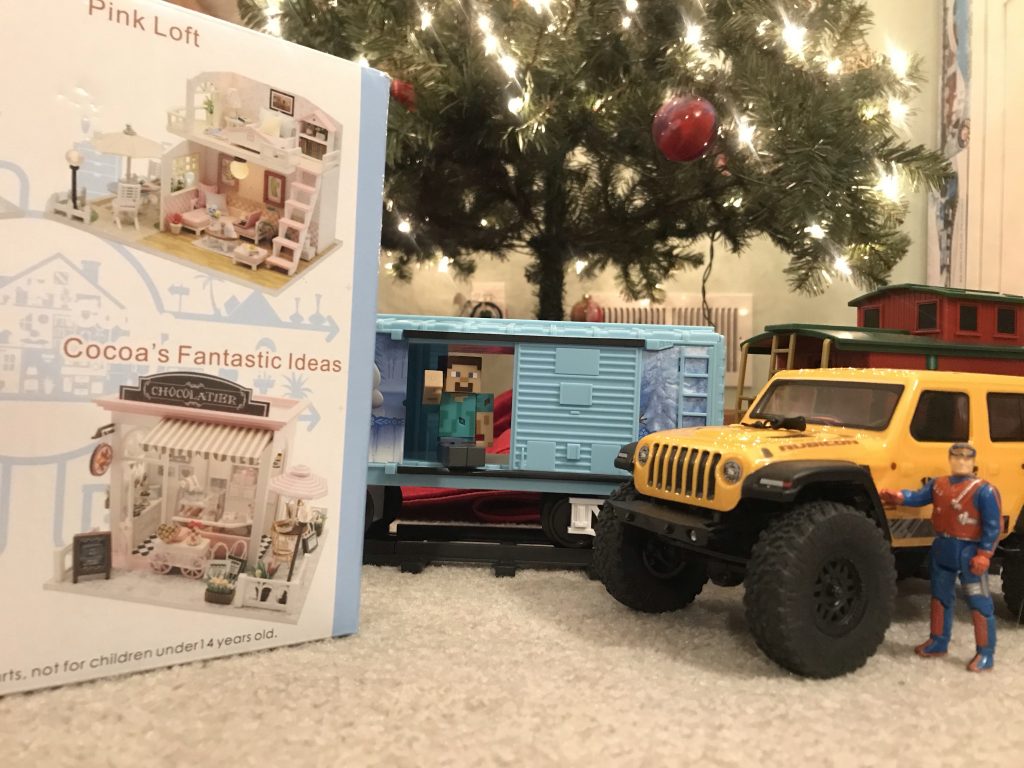 Buildings
Lastly, for Christmas my wife asked for one of these scale buildings made by a brand called TODY. They also happen to be 1/24 Scale 💪 I'm thinking about getting some of the other models with full exteriors to start building a little town. But we'll see how the build on this first one goes…