We had a 1:24 scale Christmas last year, which was fun to set up under the tree. While the SCX24 RC crawler is small, the G-scale trains are decidedly big once you factor in the layout. I've always loved model trains and had a layout as a kid, but in my home it would be impossible to dedicate a room to model trains. Why not go outside?
Large scale trains are popular for garden railways, and I had a section of yard that was completely unused. But it won't be for just trains – I want it to be a multi-modal play area: trains, crawlers, maybe even a landing pad for an RC helicopter 🚂🚙🚁
This site isn't transforming into a model railroad blog (at least not permanently), but the next few posts will be about the train setup as groundwork before the crawler course is installed. Hopefully you can enjoy it all under the guise of RC and Trail & Scale 😎
Garden Bed & Trains
For the area, I purchased some Vita 4'x4'x11″ vinyl garden beds from Costco. They came as a 2-pack that you can combine to make a 8'x8′ area. I bought two of those packs which let me combine them to make a 12'x20′ area.
Before I did any digging, I loosely fit the vinyl bed parts together in the yard to make sure I knew that the space would be appropriate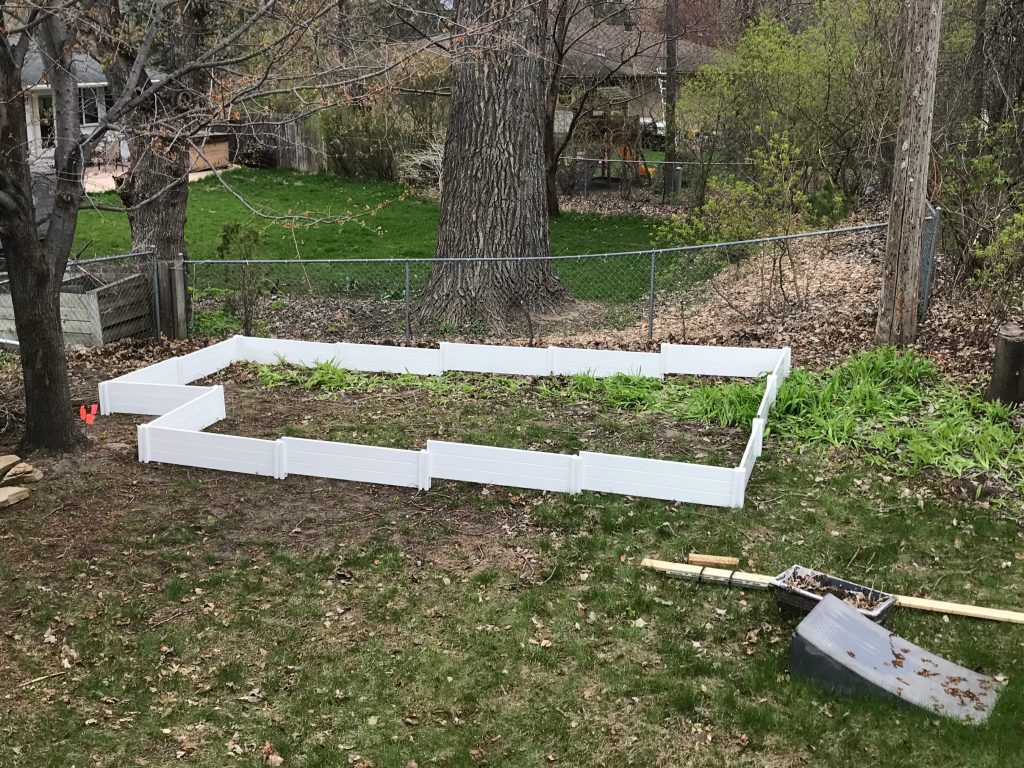 For the trains, I decided to stick with Lionel Ready-To-Play (RTP) sets. They're basically the same size as Lionel's G-scale lineup but they run on a slightly wider (proprietary) track system as Lionel does 😒 They are powered by batteries instead of power through the track, and have individual RC remotes. They're more toy grade than true model trains – cemented by the fact that you can't order additional rolling stock for these sets. But there are opportunities for modding them and other G-scale trains through 3D printing – something that interests me more than just wasting investing my money in endless train cars.
One look at the cost of "real" G-scale locomotives made me realize that for $100 I can buy another RTP set that will include a locomotive, remote control, rolling stock and track.
Layout
Speaking of track, you can buy extra RTP track and switches from the Lionel store. For my layout, which has almost 80 feet of track, it cost a little over $100.
For the layout, I wanted something that would
Follow a modeling mantra of sincere design
Effectively use the available space
Make the manual RTP switches easy to access (near one edge)
Leave plenty of space in the center for a suitable 1:24 off-road vehicle recreation area.
I started with some books at the library on layouts – there are plenty available and you don't always need to concern yourself with scale & gauge to get good ideas. The book 45 Original Track Plans had a lumber railroad that struck me because even with the switching yard out front, it was at an angle to the perimeter of the layout, which added some interest.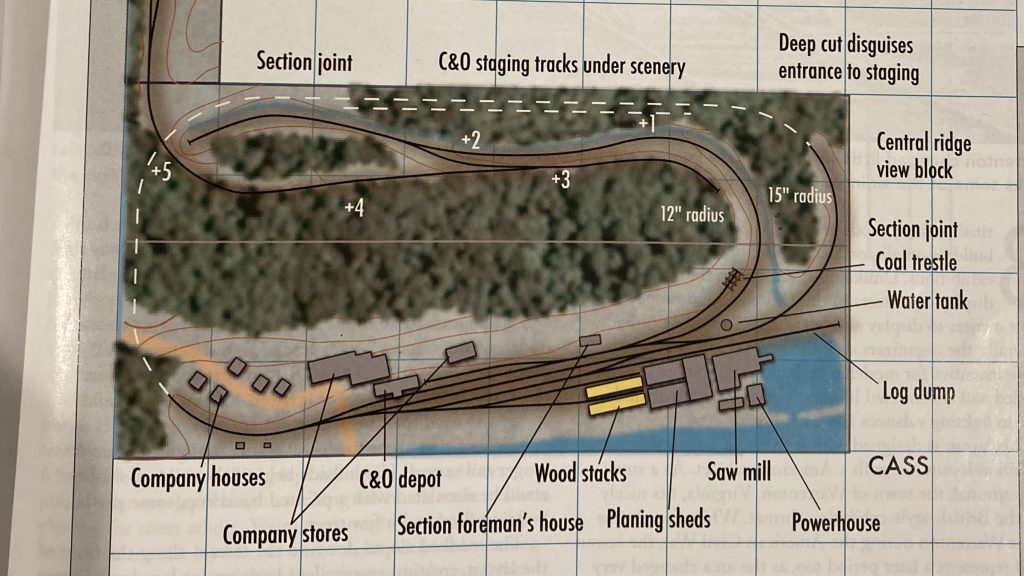 Doing something similar I'd be able to make psuedo tri-oval to fit inside my oddly-shaped area. To make sure everything would fit, I downloaded SCARM to create some layouts. It didn't have any Lionel RTP tracks in the library, so I submitted the standard measurements to the software author and they're now included in version 1.8.0 and above.
I settled on this layout: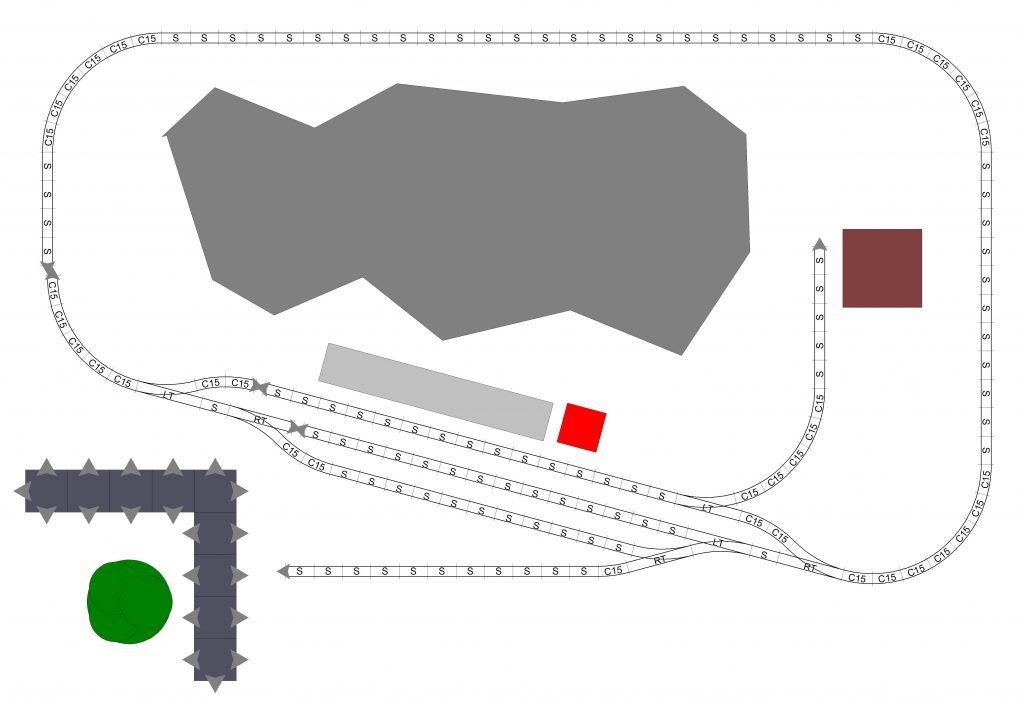 You can see I in the lower left of this schematic (and the picture above) that there's a maple tree that prevents me from making a regular 12'x20′ rectangle – so I inverted that corner and included it in my layout design for reference. I used that constraint to make the layout like a right-triangle, with a switching yard in the extra space.
The tracks don't fully connect in this schematic – because I'm using several 3D printed track sections to fill the gaps which aren't (yet) part of the SCARM library.
I kept the entire center area open to build a scale off-highway vehicle recreation area. The plan will be to keep that area flexible (not permanent), and have it be mostly rocks and hills to traverse up and down.
Costs
I want to be clear about the costs along the way with this project. Garden railroads are never cheap, and mine is likely no exception, but I'd like to think it will be cheap and cheerful compared to the many others out there. I'll be sure to include the cost of materials at the end of every post that is part of this project.
(2) Vita 4'x4'x11″ Vinyl Garden Beds from Costco – $150
Lionel Ready-To-Play Tracks – (4) 2 Switches, (7) 12 Straight – $140 shipped
Lionel Santa Fe Ready-To-Play Set – $100
SCARM license – $40
Stay tuned for more!