While this isn't about anything R/C, it's somewhat related… I recently converted a lead-acid battery powered mower to lithium-ion batteries. Anyone that is in R/C and has a lawn to mow should follow this course.
For the record, I hate mowing the lawn. It's a useless pursuit. We've all got better things to do with both our time and our resources like water and land. This Washington Post article "Lawns are a soul-crushing timesuck and most of us would be better off without them" pretty much sums up my opinion.
The purpose of upgrading to an electric mower is to get the job done faster, and without smelling like a snowblower repairman when I'm done.

I purchased a used electric mower with a bad battery off of craigslist for $20. If you don't find any on craigslist, put out a wanted ad – you'll be surprised at how many people will see it and heed your call. You can do research on specific models if you'd like, but you'll want is to make sure it's 24-volt. We'll replace the two 12-volt batteries with one or two 6-cell (6S) Li-poly batteries, which have a working voltage of 25.2v (fully charged) to 18v (fully discharged). You can review other features on sites like amazon, but many have terrible reviews because the lead acid batteries only last about a year before giving up the ghost. Don't worry, that's what we're going to fix!
Embarrassingly Simple
Converting a lead acid battery powered mower to LiPo is surprisingly easy. On the Remington model I purchased, it had a handled basket to remove/install the battery pack into the mower. This basket will still be useful to bring the batteries inside for charging, and to store them indoors during the winter.
To start, I took the basket out and disassembled it to remove the lead-acid batteries. I left the lid off which contains the lead-acid charging circuitry – which we won't need.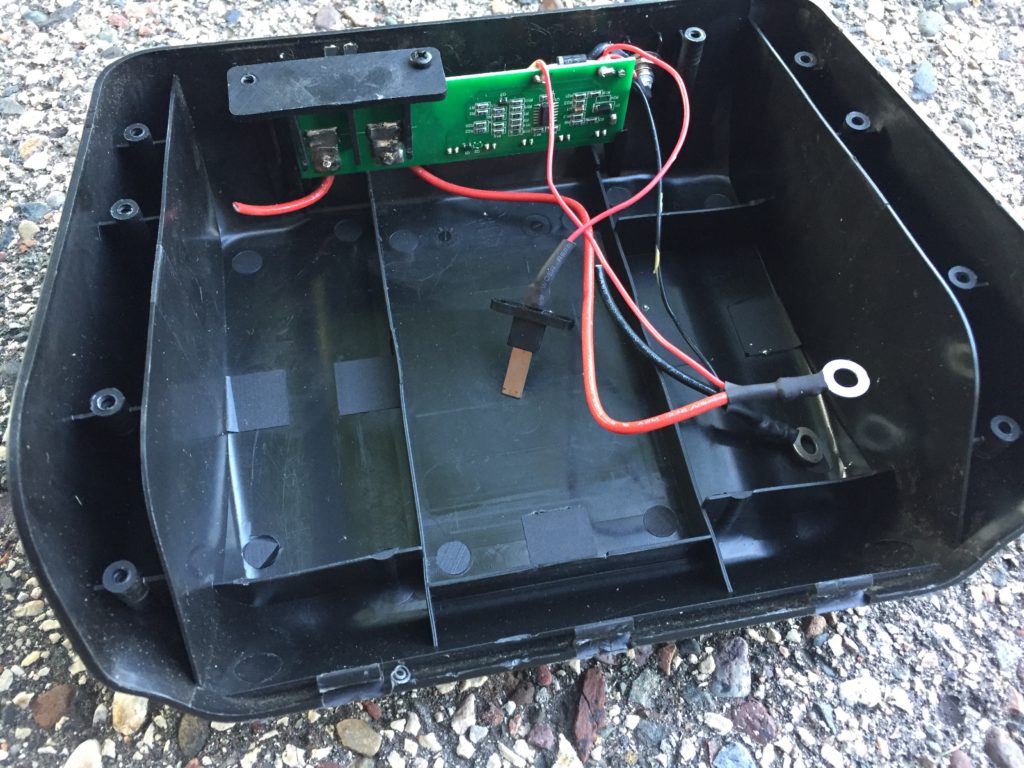 I cut the positive and negative leads that go through the fuse to the main connector, and soldered in an XT60 (60-amp rated) R/C battery connector.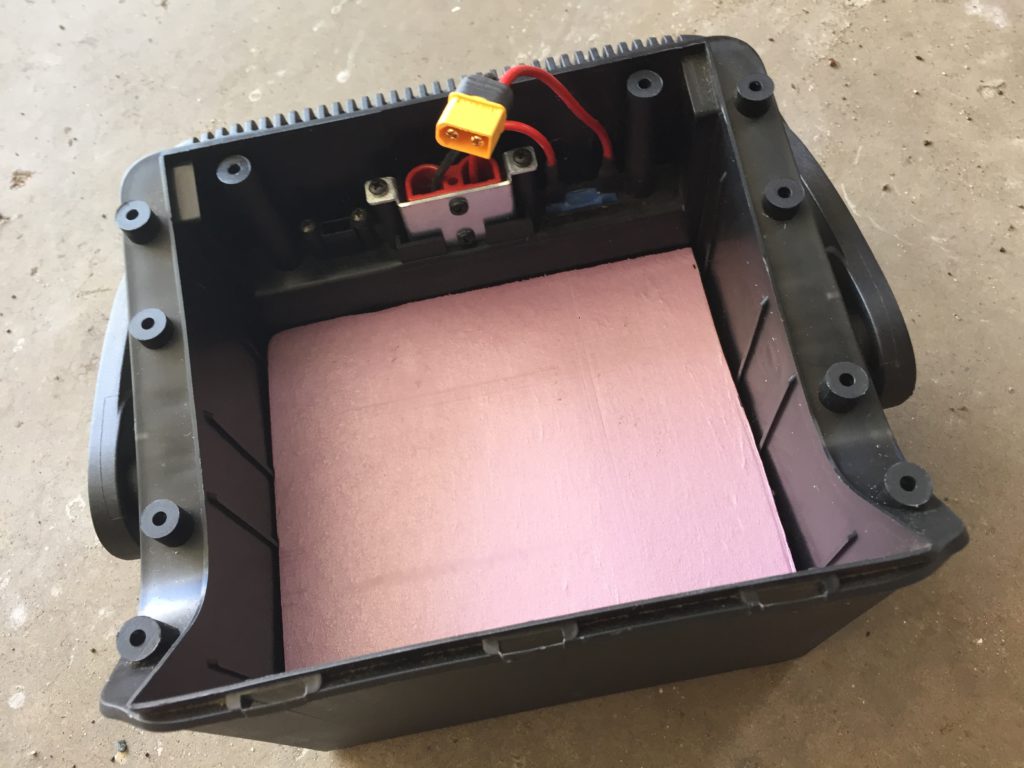 I put some foam at the bottom of the battery container. The LiPo batteries won't need nearly as much space as the lead-acid ones did.
As a curiosity, I looked under the cowl of the mower and it was dead simple. A total of 3 wires – battery negative straight to the motor, battery positive to the handle switch, and the return from the switch to the motor. That and an electric motor the size of a chunky soup can was all that is under there. No speed control, just on or off.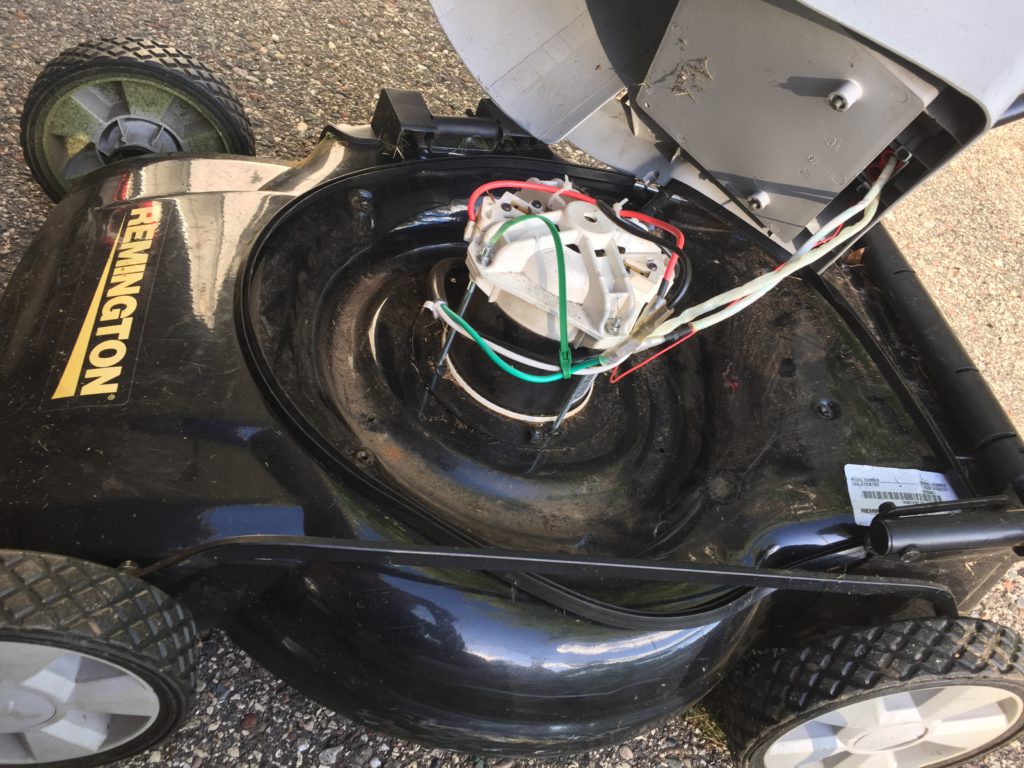 Lithium Power
I got a big 5200mAh 6S battery from HobbyKing along with an adjustable low-voltage alarm. I purchased just one battery to start – to confirm my setup works and to estimate how many minutes of runtime each battery would give.
On my first test the mower worked great. The low-voltage sensor seemed to beep a couple false-positives, possibly due to the amp draw from the ungoverned motor. To prevent excessive beeping, I set the cut-off to 3.0v per cell. On my particular alarm, it means it will start beeping when one cell gets to 3.09v or lower.
This just means that I have to shut it down right away when it beeps, but I'm less likely to get any annoying false-positives. I got 19 minutes of run-time on a single battery. The single battery pack did seem to get pretty warm. If I calculate that the entire 5.2 amp-hours had been depleted in that 19 minutes, the current draw would be around 16 amps. This jives with specs that I've read about most electric mowers drawing 18-20 amps.
A 16-amp continuous draw is far lower than the battery packs 52-amp 10C constant-discharge rating (5.2Ah x 10C = 52A). Still the heat concerned me, and I could only get the front yard and 1/3 of the back yard done in those 19 minutes.
I ordered a 2nd battery and a harness to hook both batteries up in parallel. This should give me double the runtime and cut each battery's amp draw in half for cooler operation. I also double my charging time 🙁 but it's not a big deal. Each battery takes about 2 hours to charge at 1C, and that specific battery is rated for 2C charging if you're in a hurry. If you're not into R/C hobbies and still want to do this modification, I recommend an iSDT Q6 Plus or T6 charger, and an appropriately sized power supply for how fast you want to charge.
With two batteries, heat is reduced and I get 36 minutes of runtime – just enough to mow a 1/4 acre.

Cost & Upgradability
Even if I didn't already have a charger & power supply, those cost about $80 together. Add $60 for batteries, cables, and connectors, plus $25 to ship it all from China. Along with the $20 I paid for the mower, at $185 it's cheaper than any new lead-acid battery-powered mower and it will run longer, lighter, and more consistently over a longer life-span.
Plus, I'm not limited to what batteries it can take. As battery technology becomes better, cheaper, and smaller I'll be able to upgrade and get more bang for my buck when the current LiPo power-packs reach end-of-life.
Flying Mower
If you don't actually have a lawn to mow, enjoy this flying lawn mower instead: