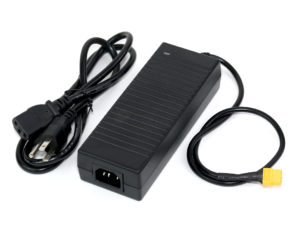 This little power supply from Ready Made RC is a tremendous bargain. The specs are fantastic on paper – but it doesn't pack quite as much punch as advertised. I have two large capacity (5200mAh) 6S batteries that I use to power my electric lawn mower. This power supply buckled after just 2.5 charges 😞 Here's how it went…

I started charging at 1C 5.2A – it quickly drew too much power from the power supply and my iSDT Q6 charger warned that input voltage was too low. I lowered the charge rate by 0.1A until the power supply could sustain – which was a 4.1A output charge rate. According to the Q6 display it was using 111W @ 12.2V – 9 amps. You can use this calculator to estimate.
I got two charges out of it at that rate, and it was hot. More strange, it was making crazy high pitched noises. On the 3rd charge the noises continued and the voltage kept sagging until finally the power supply couldn't power itself on 🙁
Ready Made RC sent me a new one and my research continued. This time I tried to avoid both heat and noise. If you have one of these power supplies and it's making noise, it's a sure-fire indication that it's going to fail.
Lowering my 6S charge rate to 3.5 amps kept the input power draw around 90 watts or 7.5 amps @ 12 volts. Heat was normal, there were no strange noises, and there was no voltage sag from start to finish.
While this little power supply says it can deliver 10 amps – that is a peak scenario. It cannot sustain that over the time it takes to charge a higher capacity, higher voltage battery. I would rate it as a 7.5A/12V/90W power supply.
I ultimately had to lower my 6S charge rate to 3 amps to so the power supply wouldn't quit when trying to deliver the high current & high voltage towards the end of the charge.
It still is a great, inexpensive, on-the-go solution for charging, and lower voltage batteries can have higher charge rates. 4S should be able to charge at 5 amps; 3S – 7 amps; 2S – 10 amps; 1S – the full 14 amps that the Q6 Plus will deliver.
Big Power – Server Power Supplies
The go-to source for cheap power delivery has for a while been from using computer power supplies. The de facto standard quickly became HP server power supplies that deliver around 1000 watts. They're small and powerful, easy to rewrite and extremely inexpensive compared to other high-output bench power supplies.
There are several walk–throughs on how to turn one of these from a computer power supply into a charging power supply. Recognizing this is an easy, low cost, but powerful solution, some brand name R/C companies began putting branded sleeves on their power supplies. Here's a quick line-up (as of January 2019) of the pre-made power supply units for charging:
I went with a D3DRP unit because he's local to me, has several colors available, and I really like the 3D printed guard that is included. One of the comments on the Team Trinity PSU is that the leads are very exposed and prone to snagging or getting bent during transport. If you've had experience with any of these pre-fab computer power supplies (or modding one yourself), let me know!