Disclaimer: I am not left handed, but this is a great transmitter whether you're left or right handed…
During quarantine I played VRC at least once a week to get my racing fix since all of the tracks were closed. My daughter would often ask if she could try racing as she watched me play. But converting my Spektrum DX3R to left handed operation meant taking it apart to move all the components to the left.
I'd been eyeing a Flysky Noble NB4 because it's a pro-level low latency transmitter, and it's killer feature is that it can instantly switch from right to left-handed operation.
Since I wasn't getting to the track anytime soon, I sold my DX3R and ordered a Noble NB4 with some extra receivers. This write-up will go through some of the features and how I set it up because there are a few things you'll want to consider.
Initial setup & binding
While the NB4 advertises latency times as low as 3ms, there's no clear answers on how that's achieved.
The servo response rate can be set up to 400Hz. From the main menu select the gear icon, go to RX Set and then Servos Frequency. Choose Custom and increase the frequency to 400Hz – but only if you have digital servos. Analog servos can overheat and will fail from this setting.
At 400Hz my SkyRC program box measured 387Hz. Either the advertised or measured rate would still put the response at 2.5 or 2.6 milliseconds (respectively).
Whether or not 2-way or one-way communication affects the response time is unclear. Without clear information, I went for a one-way setup… Hoping for the fastest feeling.
To set up one-way communication, touch the gear icon from the main menu and then select System and then Radio Frequency Setup. Change the RF Std. setting to AFHDS3 1 Way.
Any receivers bound in 2-way mode will need to be rebound with the one-way setting.
Binding to a receiver in one-way mode is not as clear because there's no confirmation on the transmitter. Follow the instructions and it will work, there's just no confirmation on the transmitter side.
Pro-tip: a quick press of the power button will bring you back one screen, the same way the < does on-screen. The touchscreen back can be finicky because it's at the edge of the screen.
Button Assignment
The NB4 has plenty of buttons and it's very flexible and easy to assign channels/functions to the various knobs and buttons.
Here are all of the assignable buttons as seen from the Assign menu: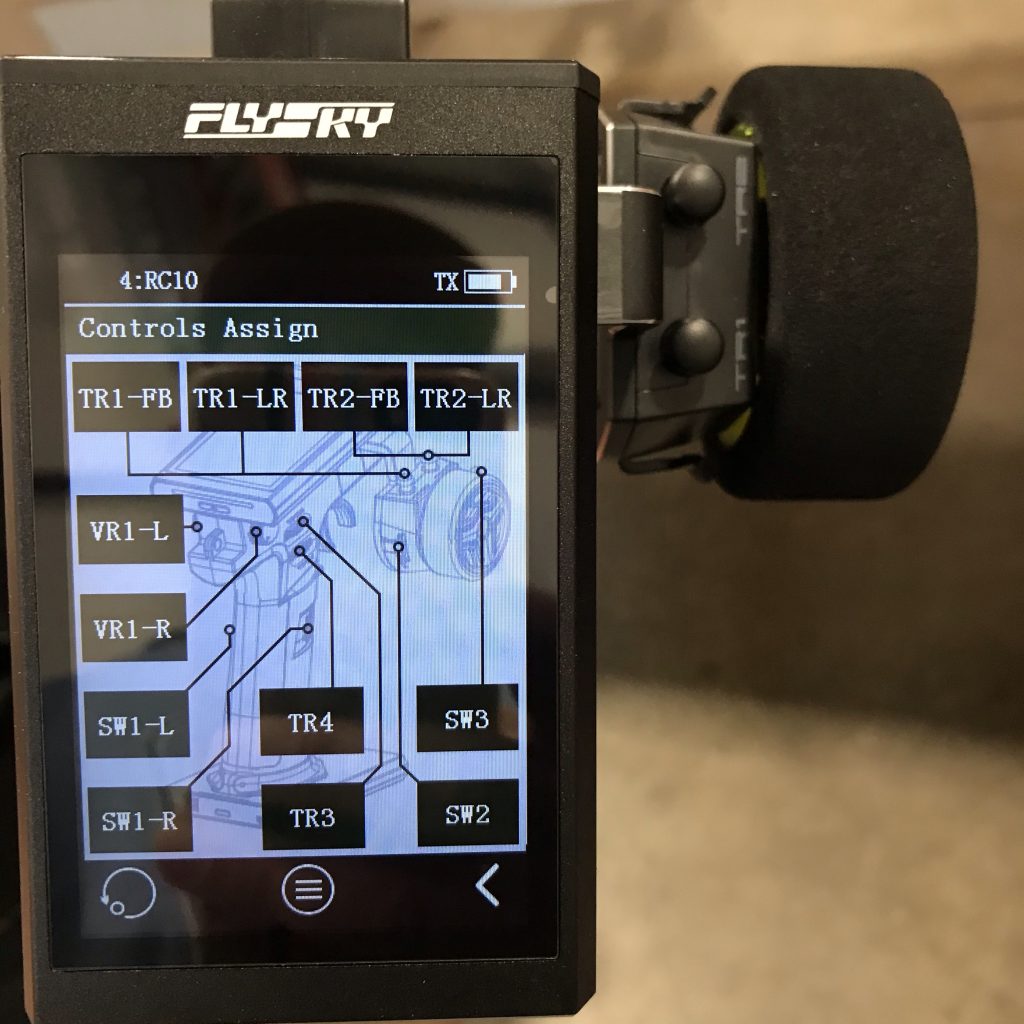 The thing you may want to keep in mind is the round VR1 knobs on either side of the transmitter. You can see one in the upper left here: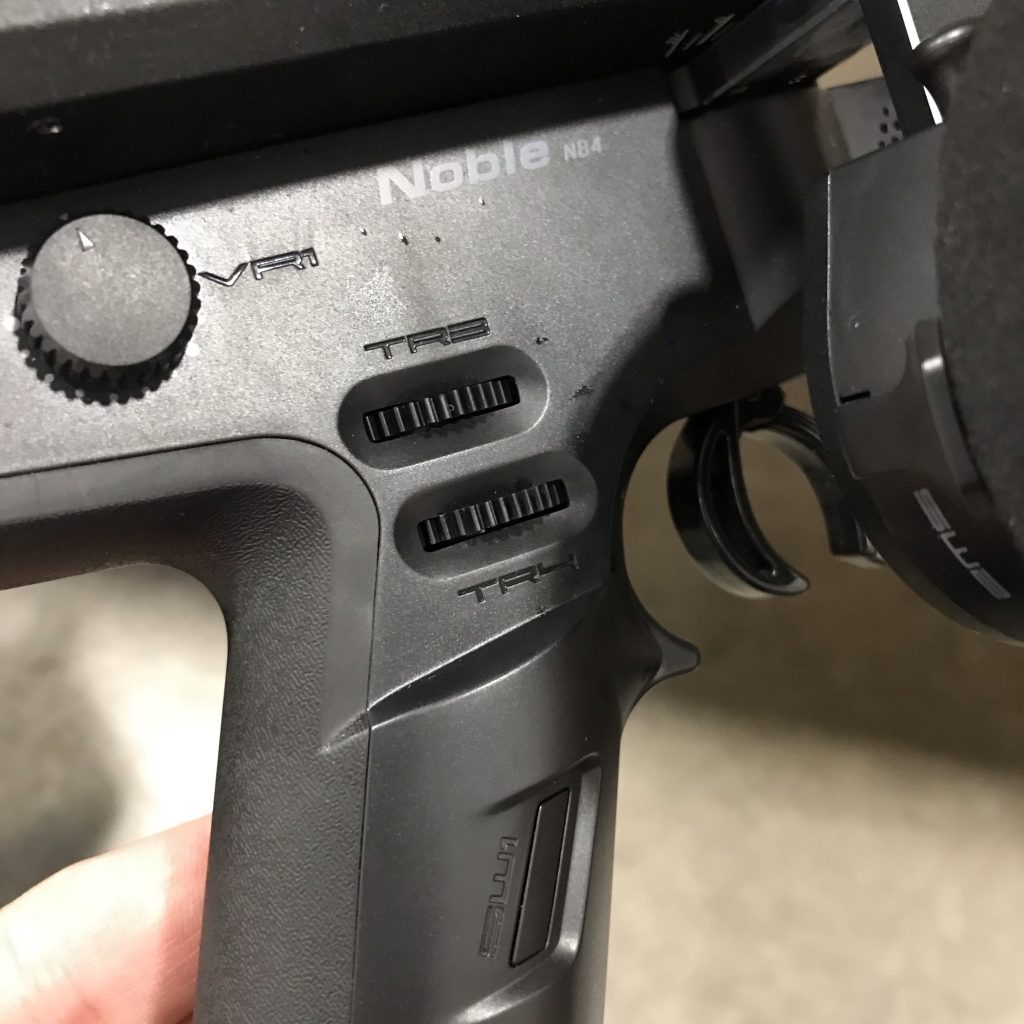 The VR1 knobs are "absolute" meaning they have a definitive start (0%) and stop (100%) points. This is important if you use the NB4 to control multiple models.
For instance, if you assign steering dual rate (D/R) to a VR1 knob, the setting will be retained between models. This might not be desirable, so just be aware.
I mostly race, so my common assignments for VRC, RC10 and Slash are as follows.
I keep the steering related controls that I might want to adjust while racing on the switches closest to the steering wheel:
TR1 Steering Trim
TR2 Steering EXP
For the "paddles" by the wheel, I use them for the timer. I have a 5 minute timer set that I use during open practice to simulate a normal qualifier. This helps me make sure motor temperature is OK and helps me change gearing accordingly.
SW2 Timer reset
SW3 Timer start/stop
For the wheels on the top of the hand grip, I use those for dual rate:
TR3 Steering D/R
TR4 Brake D/R
Lastly, I use the left VR1 knob for throttle dual rate. It allows me to turn down the maximum speed on any model, in case my son or daughter want to drive. Just remember to turn it back up before you go racing!
Killer Feature
The best feature for me is being able to switch it from right handed to left in a matter of seconds.
If my left handed daughter wants to play VRC or drive my Slash, I just flip the wheel around and turn down the throttle. I can switch it back in an instant for myself.
Here's my NB4 and RC10 B6.2 at the track, ready to race. I 3D printed an adapter for a foam touring car wheel which you can buy here or print for yourself!