I got this thing from Hobby King for just $20!
I'm sure there's some nay-sayers out there who will talk about "glitching" and yadda-yadda, but I've had less problems with this radio than my entry-level Spektrum DX2E which is 3x the cost.
It has a bunch of poorly documented features, but they're features none-the-less (the instruction manual is simply terrible).
The HK-GT2 has a direct servo control (DSC) port on the back, which isn't super useful because most people don't need to do direct servo connections now that non-interfering 2.4GHz radios are the norm. But you can use any 3.5mm audio cable to hook it up to your computer. Plug the mini-jack cable into the microphone input jack on your computer and run Smart Propo Plus. That will turn your transmitter into a joystick device that you can use to play Virtual R/C.
It runs on 8AA batteries and if you're like me, you probably have some nice eneloop rechargeables that you can put in. My eneloops cost more than this transmitter/receiver set 🙁
With the right charging adapter you can just leave the batteries in the controller and charge them there. I assume that the radio does not have a built-in charging cut-off, so you'll either want to use a delta-peak charger like your main battery charger, or just trickle charge them. My eneloops came with a balance charger that charges each individual cell, so I just use that.
Upon further inspection, the battery has a nice JST connector, so it looks like this could be easily modded to have a lipo battery that you could just leave inside:
It's certainly no-frills otherwise, but it does what I need which is go, stop, and turn. The steering wheel isn't anything special, but it has a faux disc brake behind the wheel. I took mine apart and painted that part silver so it stands out a little better.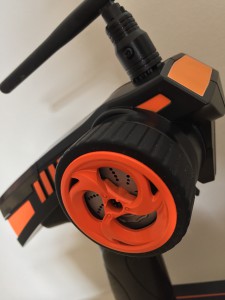 I also took some old bicycle handlebar tape and wrapped it on the plain plastic grip since it was a lacking. This is a radio you can use and abuse and not really worry about.