When I was getting back into R/C for the 2nd time, circa 2003, I made a conscious choice between getting an HPI Super Nitro Rally and the HPI RS4 (electric) Rally. The music of 18,000 RPMs sounded like a ton of fun, but in the back of my head, it just wasn't worth it. Smelling like nitro fuel, tuning the engine for the weather, proper maintenance and storage were just a few reasons. Plus all my previous experience was electric.
At the end of 2020 I donated my Subaru WRX to Newgate School. It was feeling its age and had several gremlins that I didn't want to deal with: a fuel filler neck that wouldn't refuel at full speed, an undiagnosed misfire on cylinder #1, and a slipping clutch. Like my decision to bypass nitro, the time was right to give up the rumbly EJ motor sound for the whir of a 200HP electric motor.
Introducing the official Meatball Racing vehicle: Chevy Bolt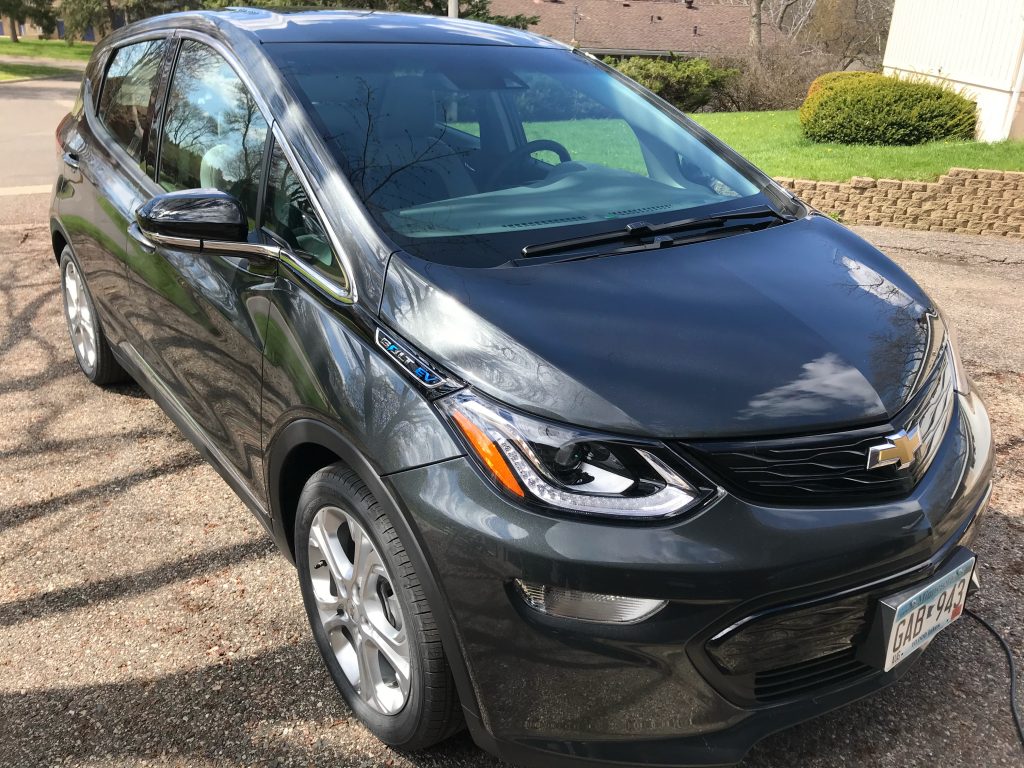 There were only ever two Chevrolet vehicles I ever considered buying, the Bolt and the Corvette. Yes, these vehicles are on opposite sides of the spectrum, but they both serve a different niche, and I'm a sucker for specialized vehicles. The Corvette is a no-nonsense performance machine. The Bolt is a no-nonsense electric vehicle (EV) – long range for a comparatively low price.
But the Bolt is no slouch either – my WRX could do a quarter mile in 14.3 seconds. With a couple bolt-on modifications my personal best was 14.001 at The Strip. A friend at the track suggested I unbolt the passenger seat and try again for a sub-14 run. I declined as I always wanted to run my WRX in a streetable trim.
The Bolt can do a quarter mile in 14.9 seconds – less than a second slower than my turbocharged performance car – and the Bolt is made for efficiency, not power. Electric motors are just great for both 💪
Similarities to modern RC cars
The Bolt has some interesting similarities to modern-day RC cars, mostly in regard to the batteries. Lithium batteries' cells need to be balance charged, so the charge rate slows as you approach 100%. Not everyone understands this because they're using to pulling the gas pump lever to full tilt all the way to the top. On EVs the fastest charge rates happen in the first 2/3rds from 0%-66% charge. After that the charge rate needs to slow so balancing can take place effectively.
Also, lithium batteries don't like freezing temperatures. It's well known that EV range goes down 1/3 in the winter – even more if you're blasting the heater. For those that like to run RCs in the winter, you probably know that charging your batteries right before you go out helps. This is because the heat from charging helps them start warm. When they're cold you lose maximum power (amp) delivery – effectively cutting the C Rating down.
To combat this many EVs (including the Bolt) have a charge schedule and departure settings. You tell it when you normally leave and it will charge the battery right before you go to help retain some of the heat from charging.
But my favorite similar RC feature is the way it drives. Instant torque at zero RPM! There's no gear shifting as the motor has enough torque to get it going quickly from a stop all the way up to its maximum speed of 93mph with a single gearset. Check out how simple the drivetrain is in this video:
Also there's one-pedal driving – this is the way driving electric was meant to be IMHO. Shift to L and it's like you enabled drag brake on your ESC. Press the accelerator down and you go, lift off and you brake. It puts the regenerated power back into the battery, and once you get used to it, you rarely have to use the brake pedal – the car has the smarts to put on the brake lights appropriately.
Track Hauler
I've already loaded it up to take to the RC track:
This 1:1 scale electric car is a great addition to round out the current 1:10 scale buggy, car, and truck collection 😎