Not everyone has the time, money, or permission to build an insane RC track in their backyard.
Mostly because of wives, home owners associations, neighbors, etc. 🙂 But up here in America's snow boot, anyone can build a temporary off-road track out of snow instead of dirt.
This February has been the snowiest on record, so we have plenty of material to work with.
I had a track layout in mind… a simple figure-8 with a jump at the crossover point. The jumps are the two that came with a Ten Eighty 1080 Flybox Ramp combo. I just put them side-by-side before it snowed. You could also dig out a space for jumps and cover them in snow, or simply build a snow jump. I can't speak highly enough of these 1080 jumps – especially if you can find them used through craigslist or a garage sale. They've provided hours of jumping fun.
To help design the track, I marked off some critical points with plant potters or buckets to give me a reference even with 30+ inches of snow. Then I went and shoveled out the lanes, putting most of the snow on the outside of the lane.
The lanes aren't the standard 8-10 feet you'd see at a sanctioned RC race – they average about 6 feet instead.
I originally shoveled several "hard edges" – walls of snow that met the driving lane at a 90 degree angle.
While this seemed like a good idea during design, testing revealed that your RC was likely to get stuck hitting the wall. It required more driver skill than me or my kids would tolerate while our fingers were freezing, so I instead made all of the track edges ramps.
I took a page out of the mountain biker book and used a set of snowshoes to tamp down the fluffy snow into a hardpack – doing a "snowshoe stomp." This helps especially on the deep-snow sections that will get a lot of traffic – like the jump and the ramped edges that are on off-camber sections.
To make sure it was usable, I brought out a 2wd Monster Snow Slash to test. I purposely started with the battery at a storage charge (50%) to make sure the track was usable at slightly slower speeds. I'd turn some laps, make some mental notes, make some changes, then repeat.
The ramped edges gives the track a fun luge-like feeling. You can ride the edge to help turn and maintain speed.
To the right is a patio made of pavers. I shoveled all the snow off, so it just has the layer of ice that came before the snow. It makes for an interesting slippery surface, sort of like the tiled corner that was part of the 2014 IFMAR worlds track at Naxos:
The patio section and the jump were smooth enough for my daughter to drive her LaTrax Prerunner on, so she joined me for a race. She would just do the jump and take a hard right going back to the patio because it is the smoothest section of the course – best suited for her Prerunner.
A few days after that run we got eight more inches of snow. I took the opportunity to really ramp up the edges of the track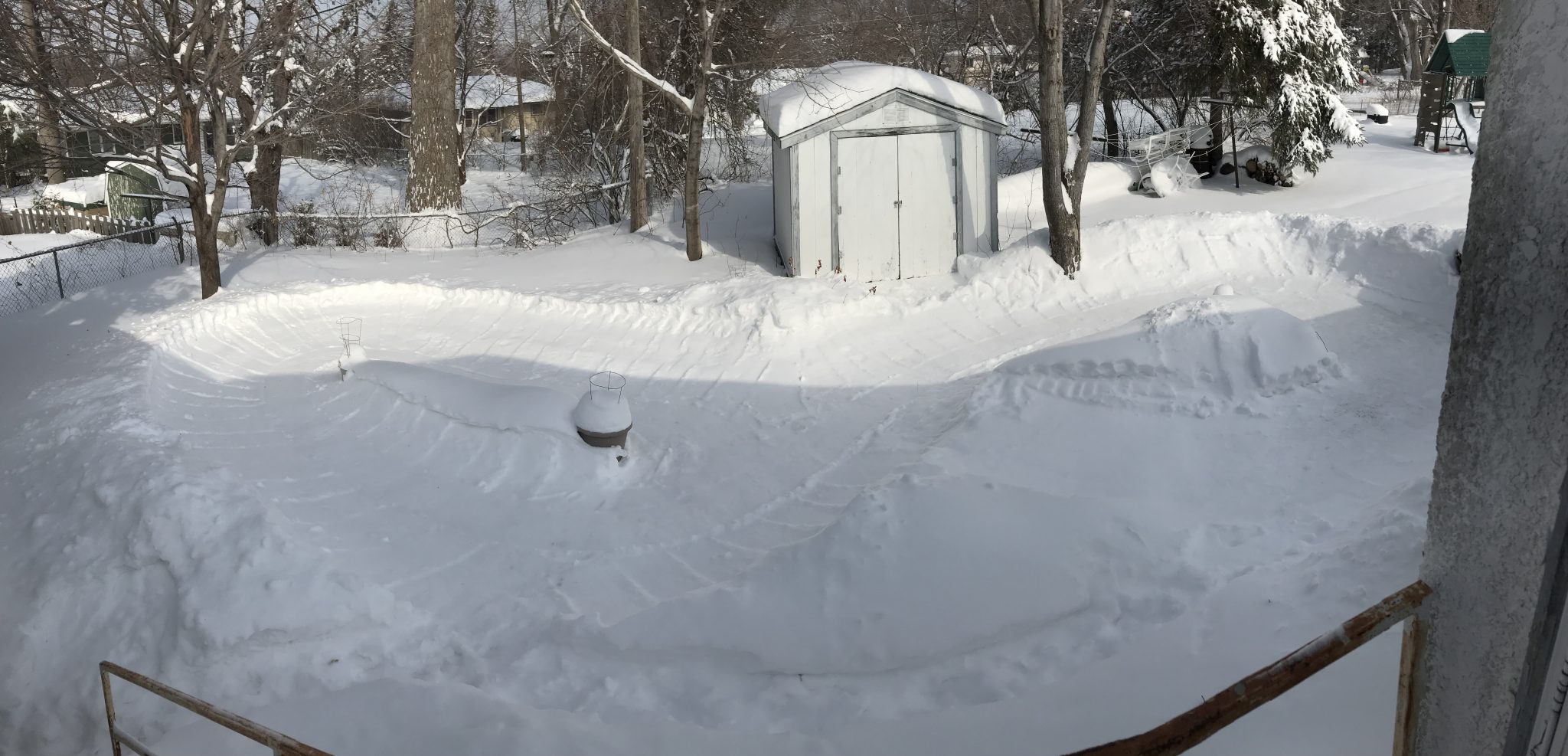 Now it's like a winter version of the track at Radiator Springs.
Maybe I should add a balanced rock, or art deco wing made of snow to the middle for authenticity 😎
Have you built a backyard track or have any interesting ideas you'd like to see? Drop a comment below and share.