This whole project started on the basis of the Pro-Line Jeep Rubicon Unlimited body – it's a beauty.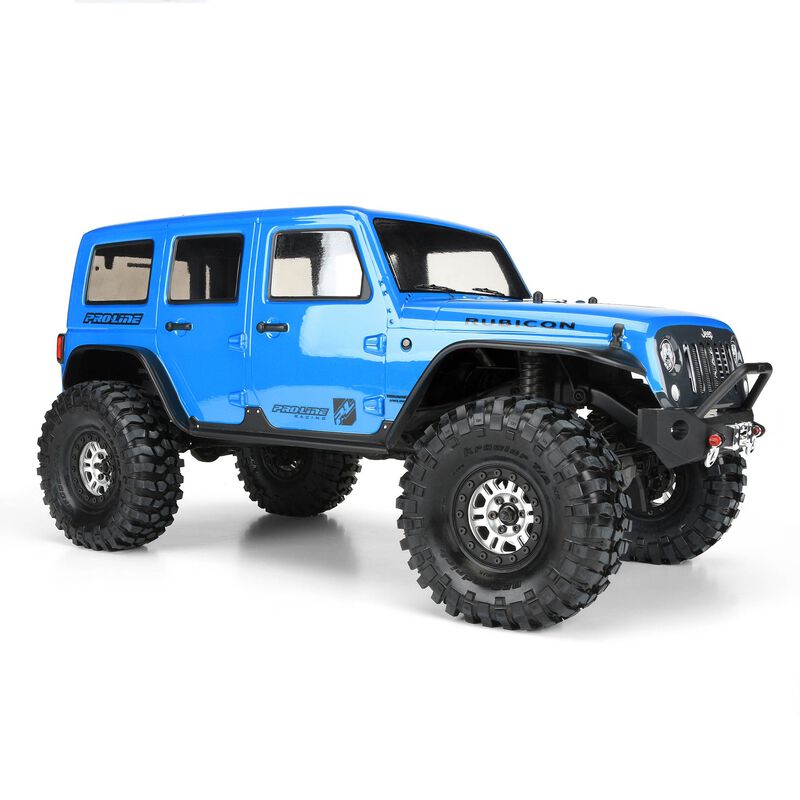 So how does this thing fit on a Slash and how do we make it look less like a short course truck?
Paint
Paint wise I did a simple 2-color paint job – black for the top, and metallic red for the body. For the top I painted the inside with Spaz-Stix Black (any black will do).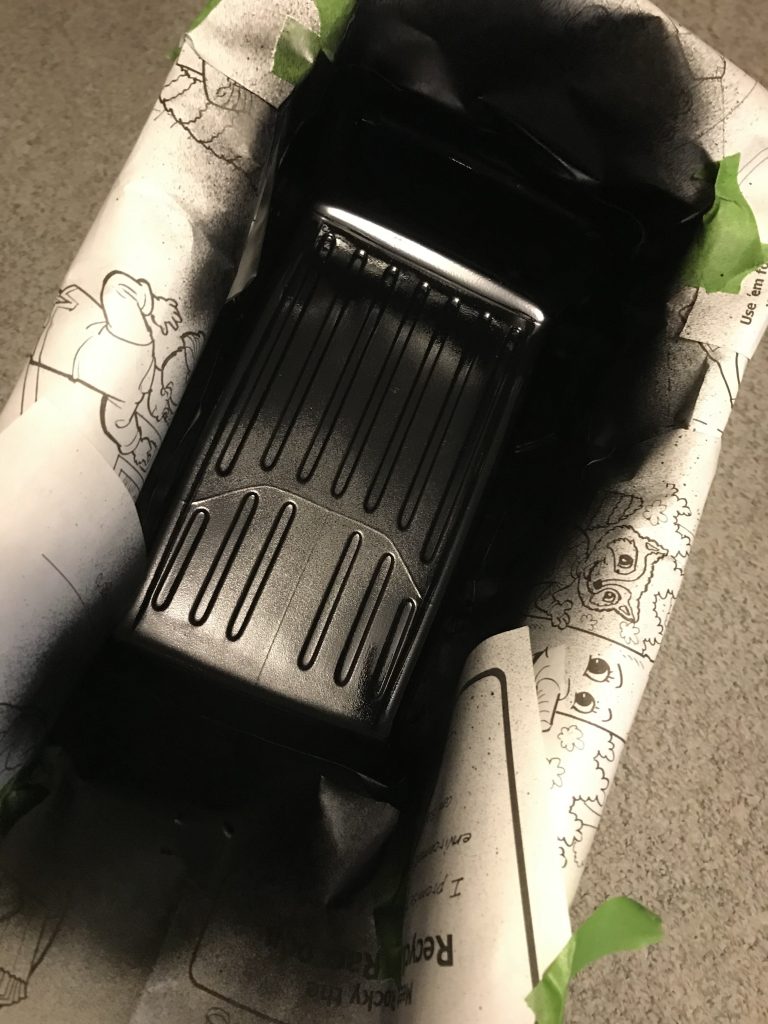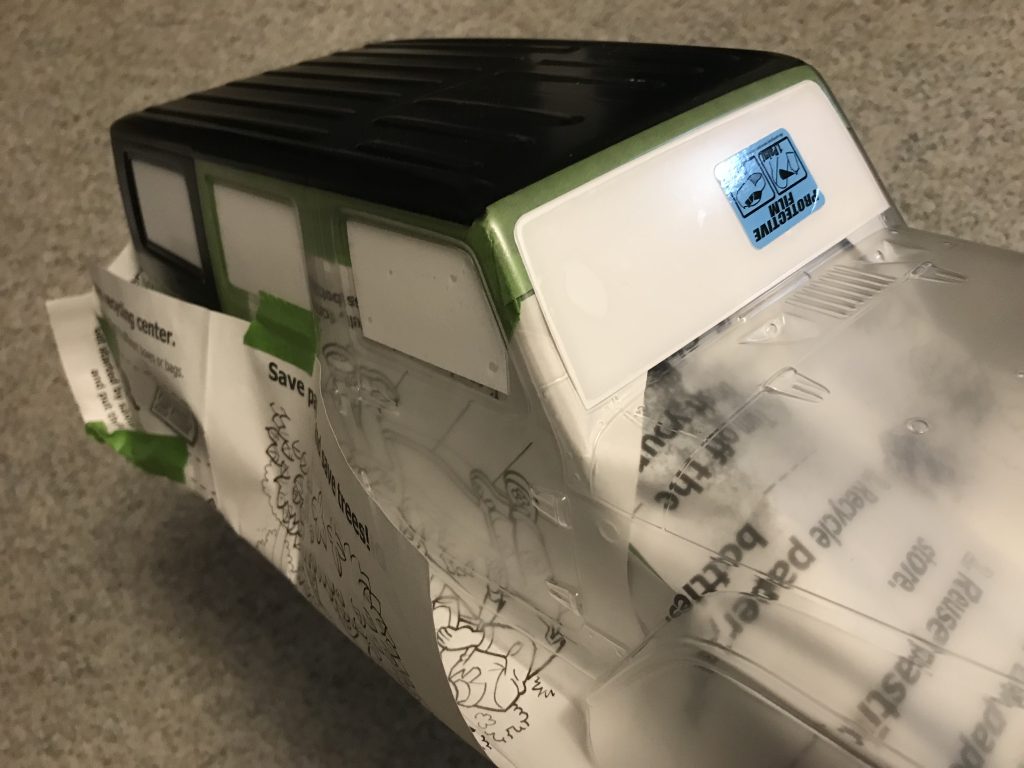 To give the outside of the top some texture, I cut and removed the film from the hardtop (but not the windows) on the outside and sprayed it with some Dupont Armor bed-liner spray from Advanced Auto Parts.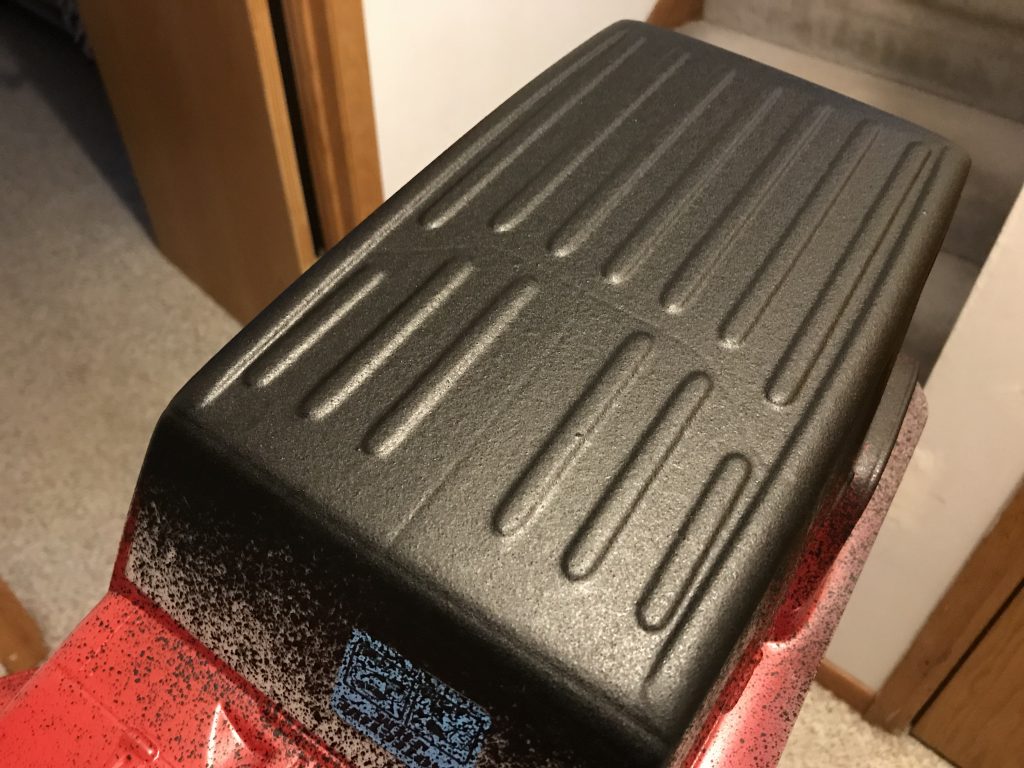 For the red I first masked off the lights so they'll be clear under the decals – in case I want to add a light kit later on. I used Tamiya PS-15 Metallic Red and I cut a scrap piece off of the front to experiment with backing colors. I tried five backing colors I had laying around: Silver, White, Orange, Gunmetal, and Black.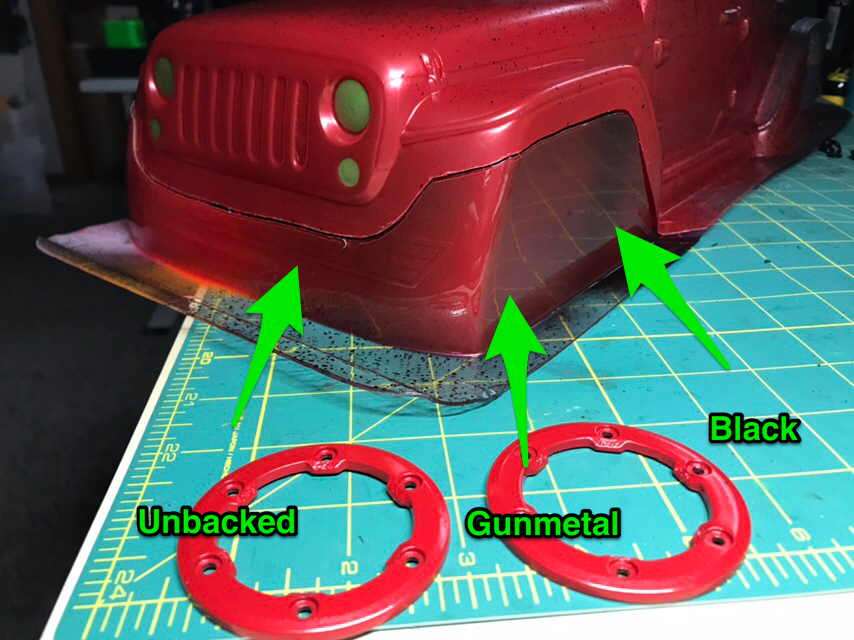 In the end I went with Tamiya PS-23 Gun Metal for my backing color as I liked the deeper red it created.
I also painted the locking rings from the Pro-Line Bead-Loc wheels at the same time. The next day I added a layer of clear coat to the locking rings to keep the paint from scratching off easily.
Mounting / Fitment
The wheelbase of this body is just right for the Slash at 325mm. And we adjusted the width of the Slash to make it look more plausible. So let's mount it up.
Another great part about this body is that it almost exactly matches the 7-inch width of the Slash 4×4 chassis. I took advantage of that and used velcro where the running boards meet the chassis. I kept a small amount of lexan below the doors (instead of cutting it off).
I put a piece of electrical tape on the outside to make it flat black, and put velcro on the opposite side.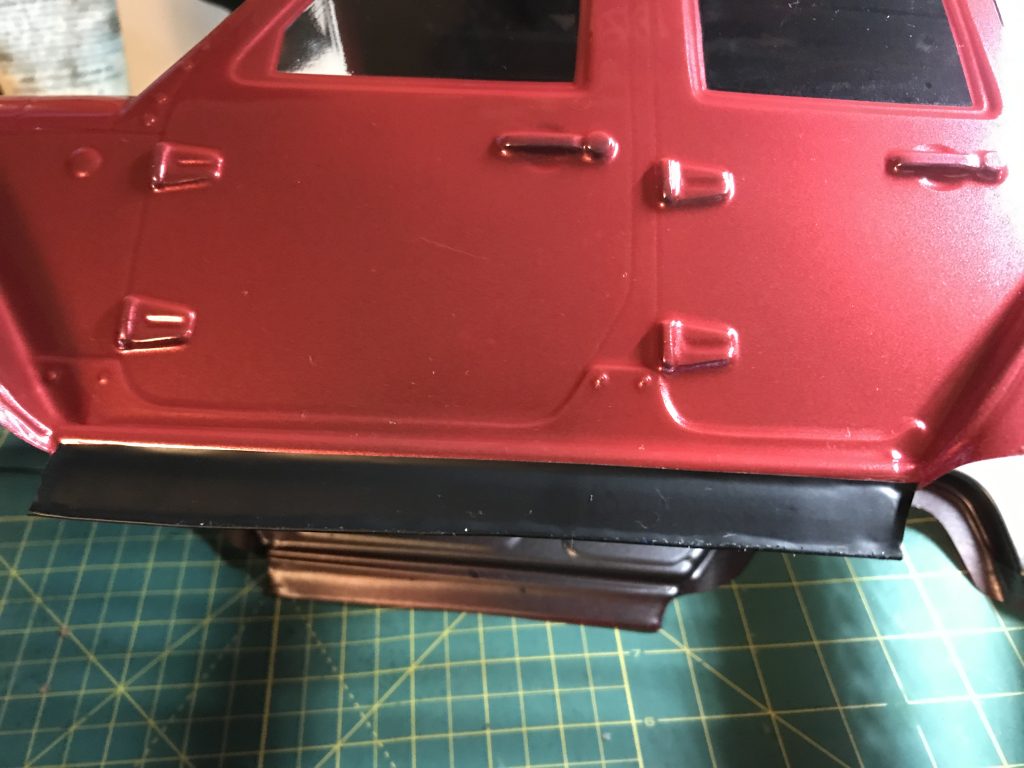 The body velcros nicely to the sides of the Slash 4×4 chassis tub.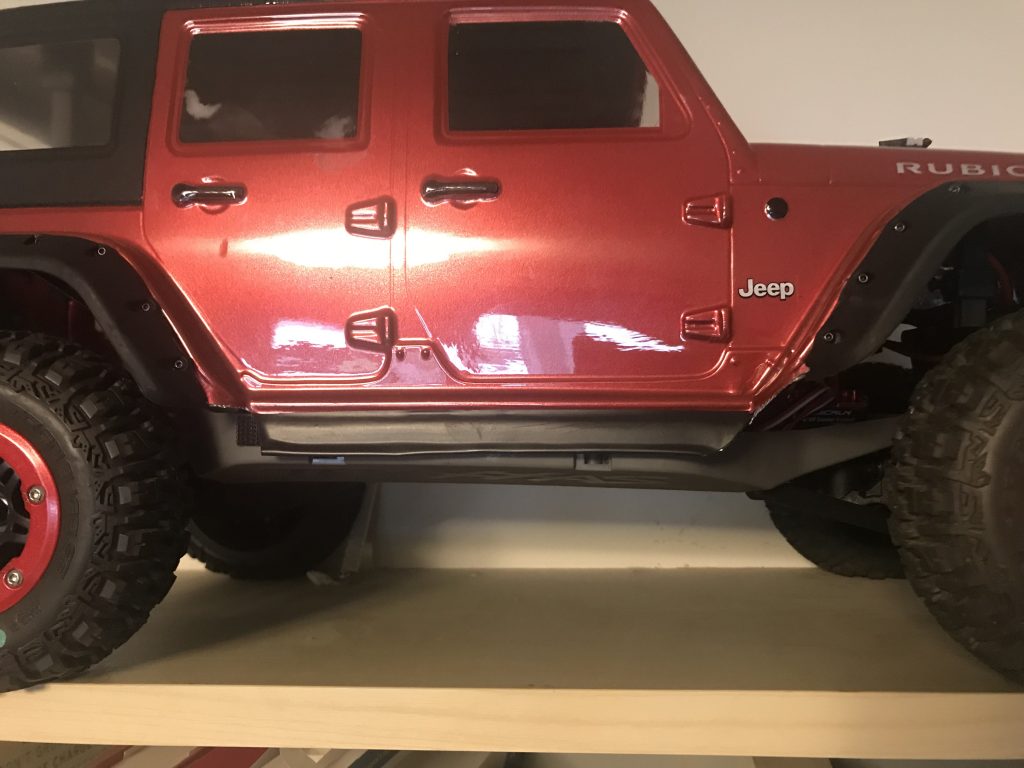 For the body mounts I bought the Pro-Line Slash 4×4 Extended Body Mount set. But rather than cutting holes in the body, I used the set screw from the body mounts to fasten a magnet to the body posts using a 3D printed adapter.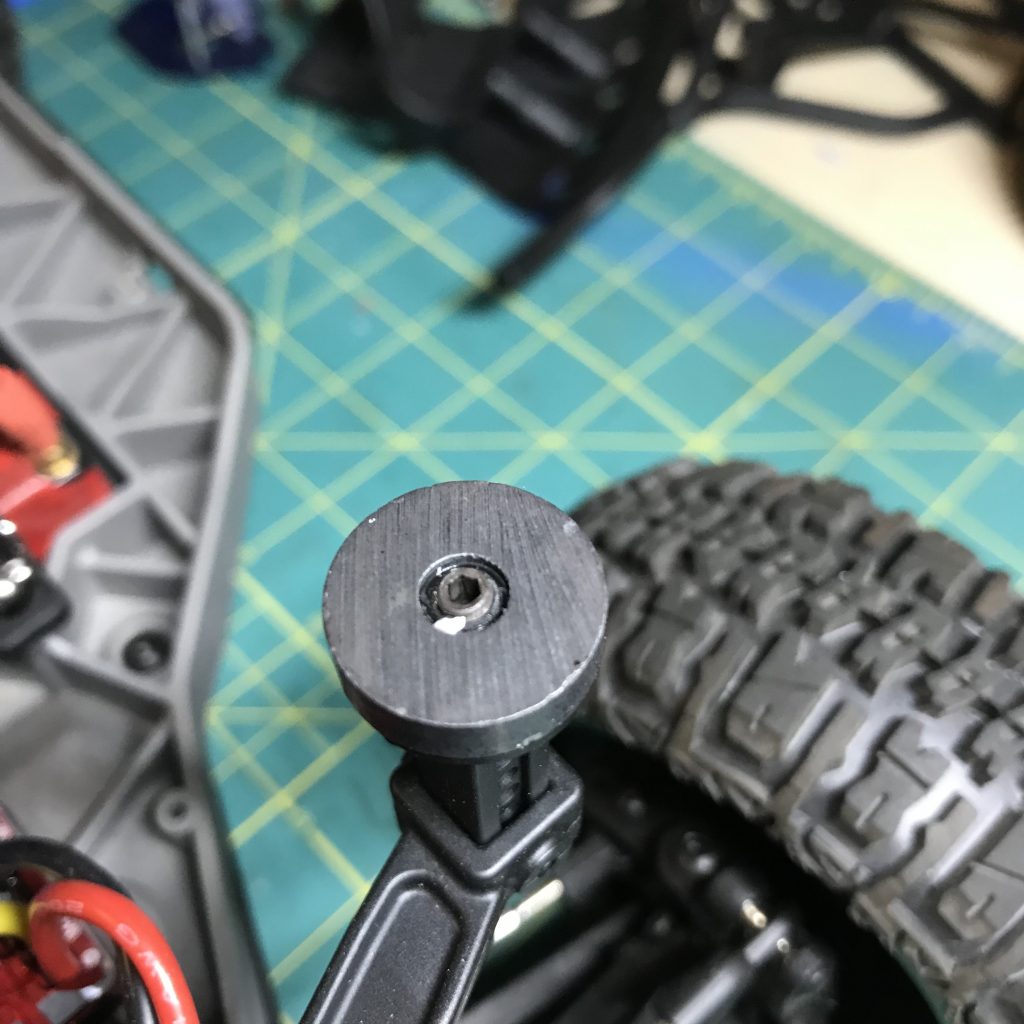 Then I used some super-sticky extreme shipping tape to keep magnets in place on the inside of the body. I also like to use it to reinforce parts like fenders that might get bashed – to prevent the lexan from tearing.
The body stays on nicely even after taking a tumble. It's easy to put on and take off, and without any visible body posts, it looks more scale.