Suspension Arms
The arms are going to be the single biggest difference maker when it comes to overall width. As part of my research I gathered a list of several Slash-compatible arms and their lengths. If you've got more arm lengths to add to that list, please comment below.
Bandit arms are 67mm wide, while the stock Slash 4×4 arms are 92mm. Just by making this switch we're going to remove 50mm of overall width, bringing it from 296mm wide to potentially 246mm – less than the goal of 249mm. So we have some width we can add if need be.
Here you can see two sets of Bandit arms compared to the original Brushed 4×4 Slash arms: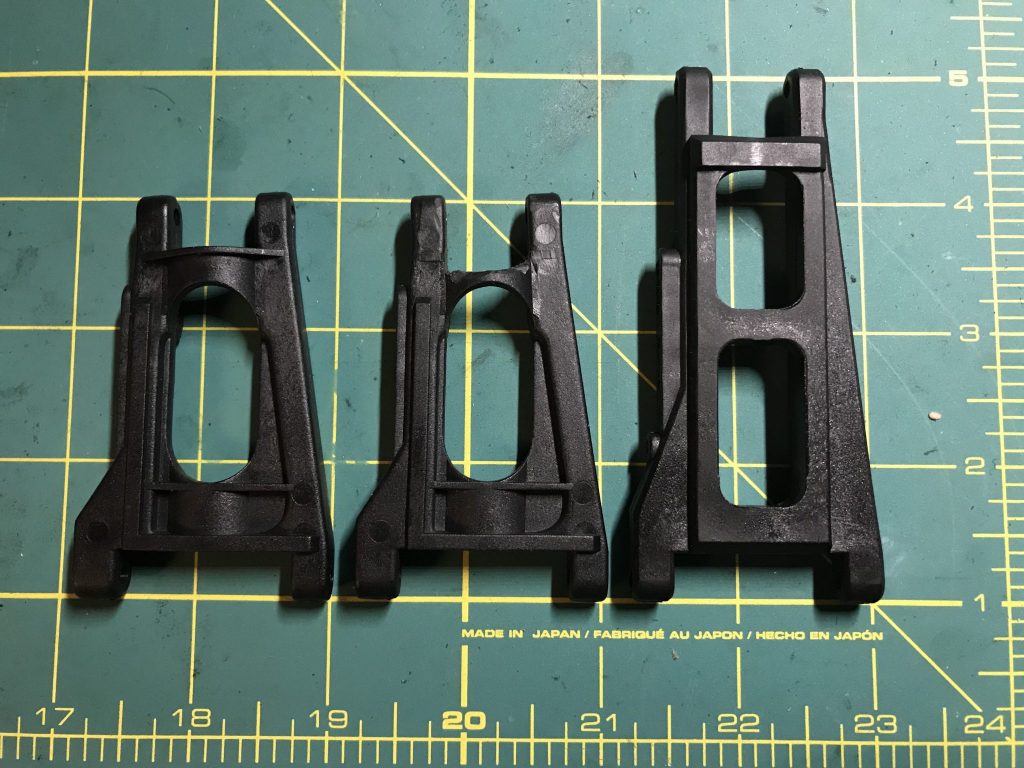 One of the bandit arms is modified. To get the bandit arms to fit in the Slash 4×4 front caster blocks (6832) and retain full suspension travel, I had to cut and trim some things. If you've got the aluminum 6832X caster blocks you may not need to trim as much – as always, your mileage may vary.
I trimmed off much of the bridging near the wheel side of the suspension arm using a cut-off wheel, leaving just a small amount. I also used a sanding drum to remove some material from the top of the forward arm link so it wouldn't rub inside the caster block.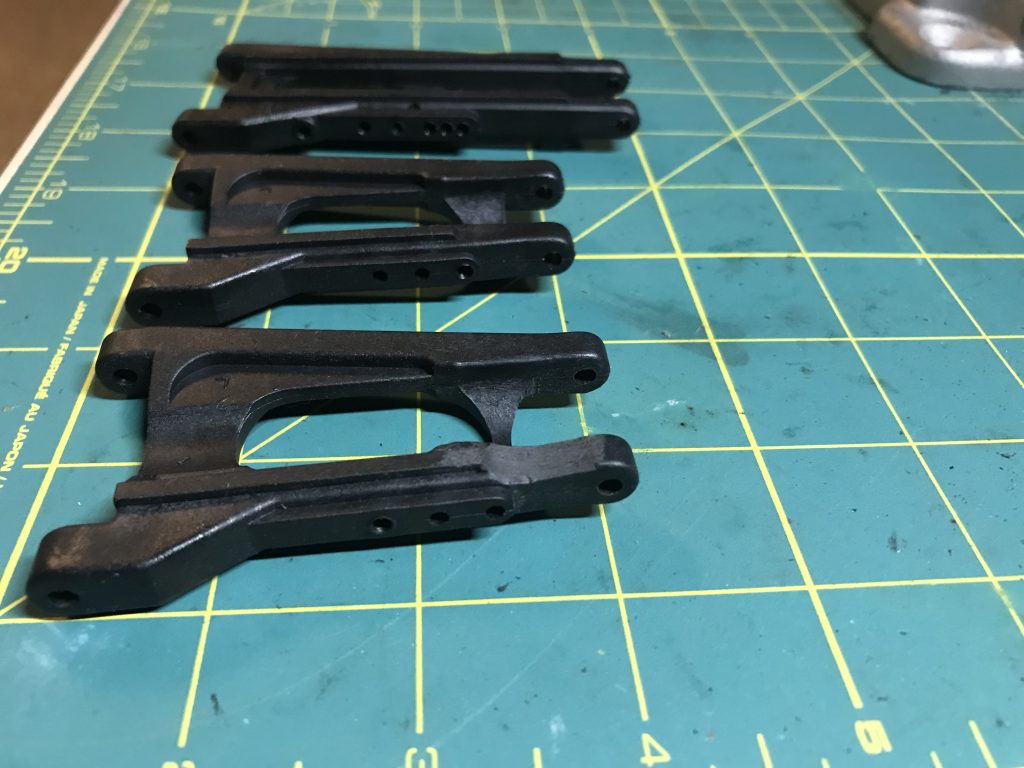 Removing the forward arm link material allowed the suspension to droop much further without binding. You can see here how it dips below the caster block support:
I used a Dremel and two attachments to make these changes: a 409 Cut-Off wheel and a 430 Sanding Drum.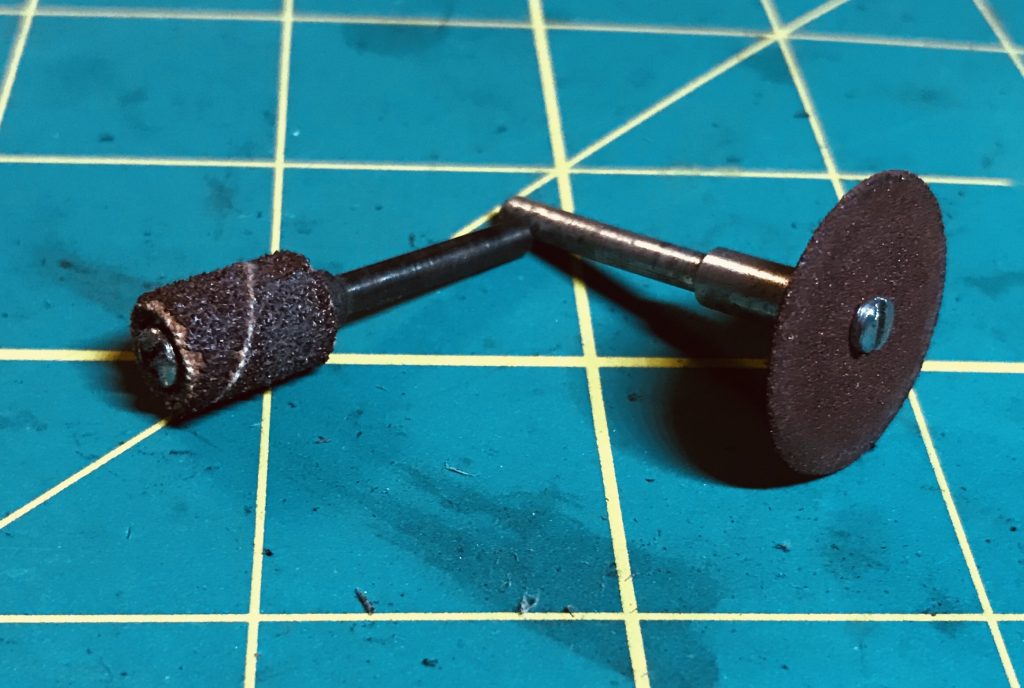 Axles
I planned on switching to Bandit axles, but it turns out the cross pins on the Bandit universal joints are smaller diameter than what comes on a Slash. RC Driver explains and shows it very nicely here:
This would mean also switching to Bandit diff output yokes and stub axles – the latter of which I wasn't sure was going to fit in the Slash 4×4 bearing carriers. Not to worry – there's a cheaper and easier solution: cut the stock Slash 4×4 telescoping driveshafts.
I cut 20mm from both halves, using a pipe cutter worked nice and kept a clean edge.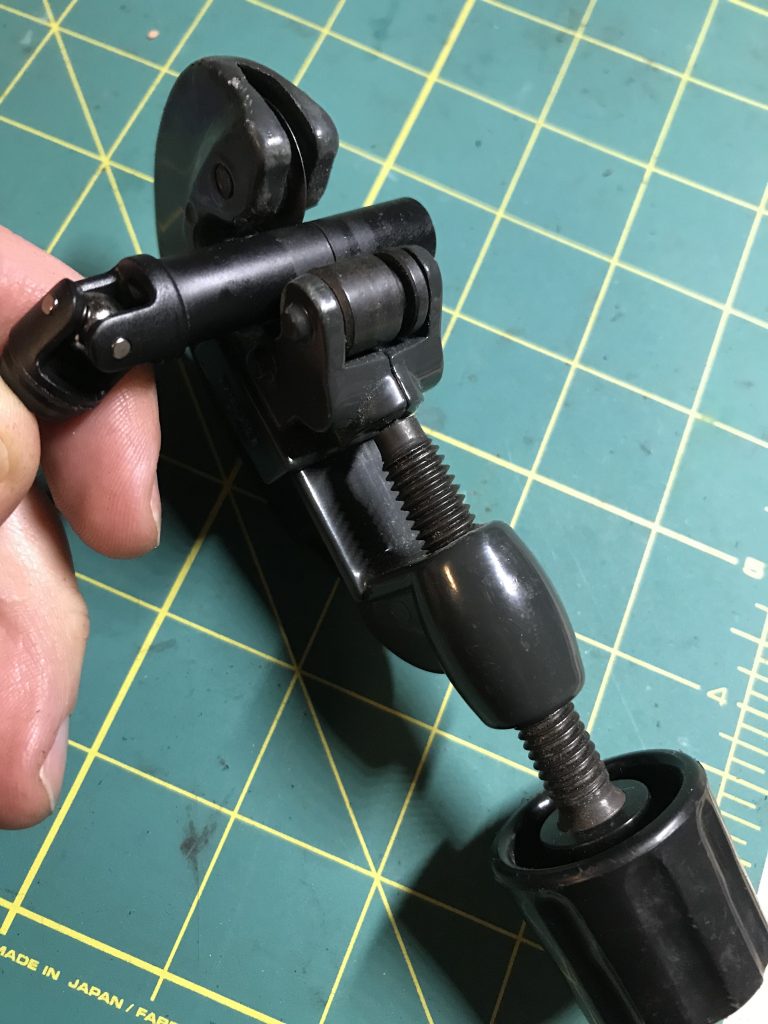 Here you can see before & after: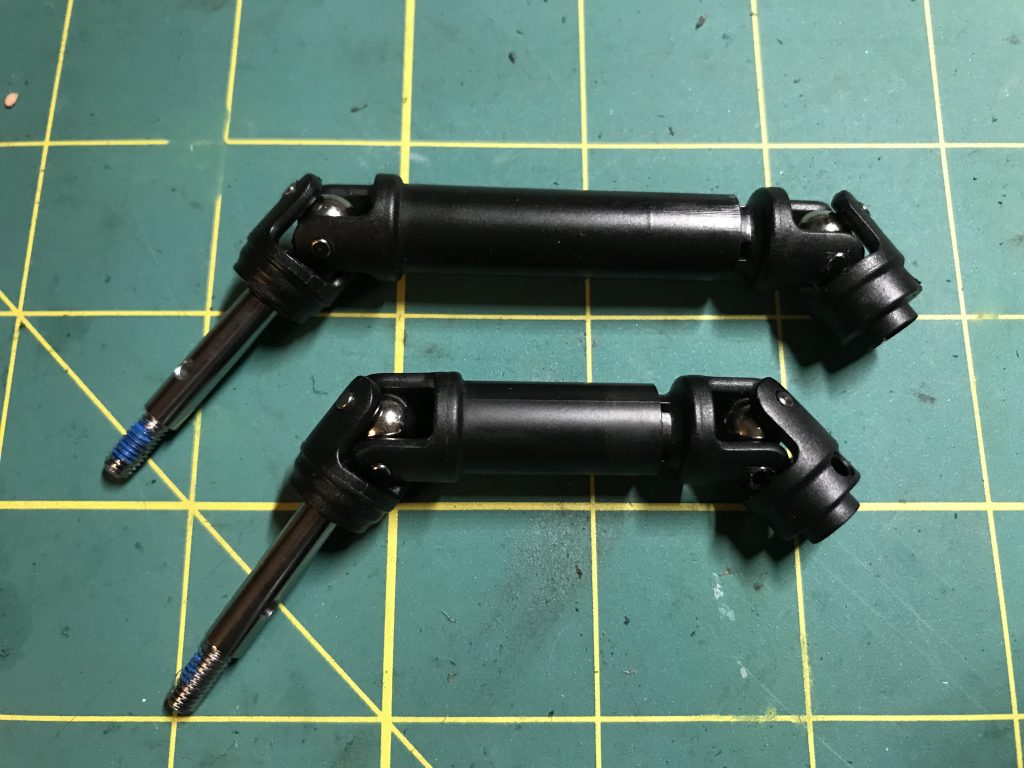 Turnbuckles
For the camber links, I used Bandit turnbuckles (2443), two sets for front and rear. You'll also want to buy some extra hardware to mount them as the screws for the Brushed Slash 4×4's non-adjustable, plastic camber links are different. A bag of 3x15mm button-head screws (2579) should cover you, or you can pick some up at the hardware store.
The steering turnbuckles are thinner than the suspension camber links – 3mm instead of 4mm. Also the rod ends are specific to the Slash steering bell crank and steering blocks. So I opted to retain the stock rod ends and install them on a shorter (3x45mm) turnbuckle. I reinstalled them into the forward most hole on the steering blocks for maximum turning angle.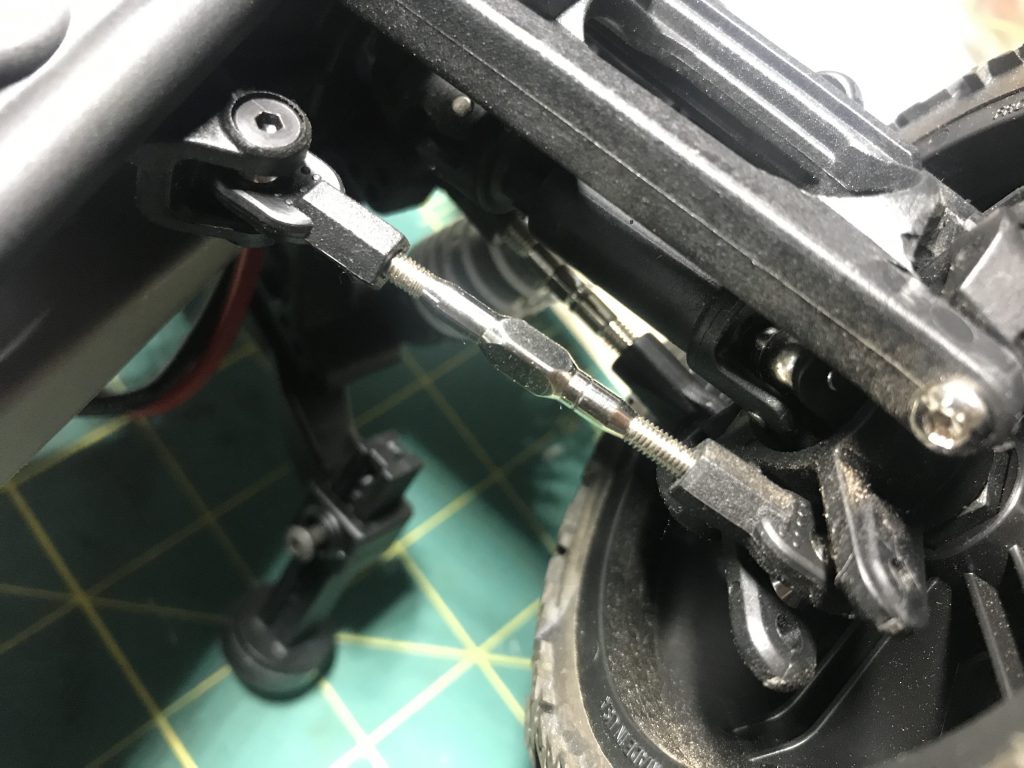 I used a turnbuckle from TLR that I found at my local track, but any 3mm x 45-48mm turnbuckle will do. These ones are from popular models, so there's a good chance your local hobby shop will have one:
Keeping the front wheels/tires from rubbing the shocks at full lock was tricky. Crawlers need maximum steering angle for tight turns and I didn't want to lose even one degree – especially considering the Slash wasn't built with crawling in mind.
Using Pro-Trac wheels like on the Ultimate RC Chimera-B were not going to work with the short Bandit arms. They rubbed on the suspension and limited steering angle. Luckily I have a 2wd Slash on hand to facilitate some testing. The next level of wheel offset was the 4×4/2wd rear wheels. These also rubbed the shocks at full lock. Switching the wheel hex to the wider 2wd Slash front wheel hex (3654) helped, but it was still touching the shock (barely). In the end I used 4×4 Slash wheel hexes with 2wd Slash front wheels on all four corners.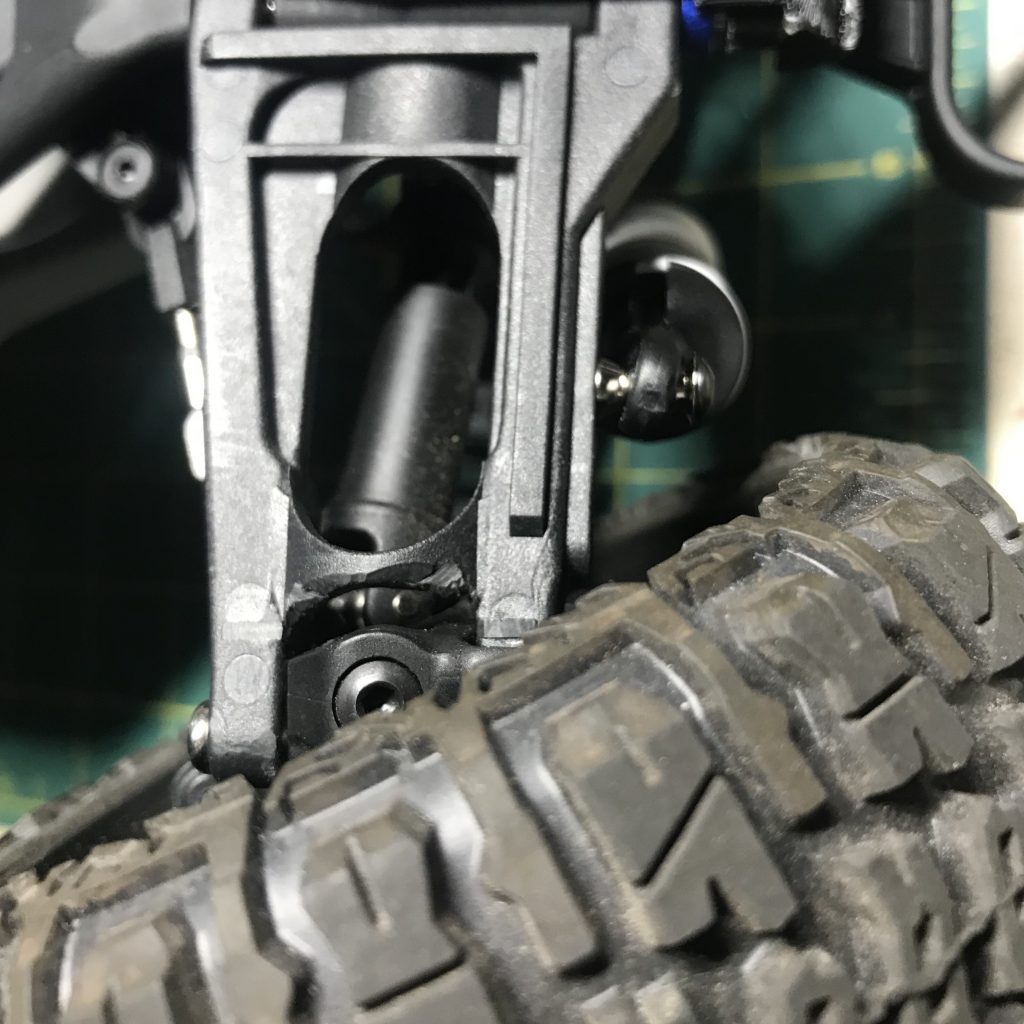 The result is 254mm of overall width with tires on. Close enough to the 249mm I was going for to call it good.