My son Jules has really taken to R/C driving – and crashing. My formerly pristine Subaru WRX body has officially been put through the ringer:
So I asked Jules what sort of body he would like – hoping that I could save the Subie body from further destruction. But he has a hard time getting past the fact that lexan bodies are clear and can be painted in any color scheme, so he's often influenced by the presentation color rather than the shape. Unable to get him to commit to something, I made an educated guess.
Mighty Mini
When we race at the Twin City On-Road Club in Cottage Grove during the winter, he usually winds up running in the Tamiya Mini B-main if there's not enough people for a novice class. We even discussed getting him a Tamiya Mini at one point.
But he seems to like the HPI RS4 Rally – it's part on-road and part off-road, and I'd rather not buy another chassis. Why not just put a Mini Cooper body on it? RCMart sells a Colt Mini Cooper body: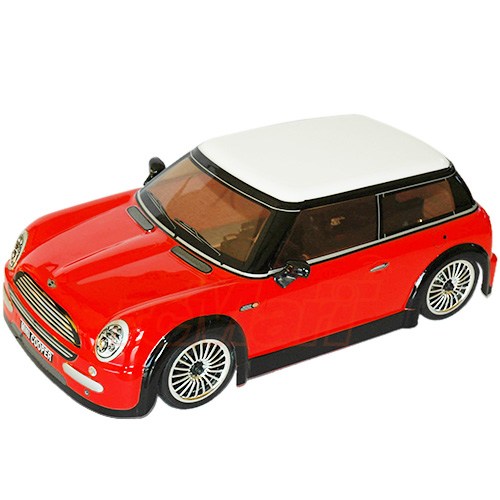 Shipping on these bodies is pretty silly because they're light, but require large packaging – and they're coming from China. So a $17 body can quickly approach $40 once it's shipped. I opted to order their two-pack so once they're shipped, it comes to roughly $24/each. Now I've got a spare that we can paint once he puts the first one through the ringer.
For color Jules chose a teal colored Duratrax paint – one that is suspiciously close to the color of Thomas the Tank Engine – which he is also very fond of. I was inspired by a Mini I saw on the road that had a checkerboard roof. So I added that treatment. I created a criss-cross pattern using the width of my masking tape for the spacing, using this technique from RCGroups:
I did black first, then white over that. Here's a photo just after applying the 2nd set of black checks. There's a little paint bleeding under the masking tape, but it was good enough:
Here are the paints we used. All Duratrax spray paint: Basic Black, Base Cover Coat (white), and Teal:
I call it a Mega Mini because this body is big: 200mm. Sitting next to a Tamiya Mini it surely would not look scale. But it looks pretty awesome all by itself: