After buying a secondhand TC5 chassis for VTA racing, I had a leftover HPI RS4. Rather than letting it collect dust, I asked Jules if he'd like to invite his cousin Reese to go racing with us, of course the answer was yes. We had an extra unpainted Mini Cooper body and I was able to load up the unused chassis with super-cheap electronics like a silver-can motor for $4 and brushed ESC for $10.
When I asked Jules what color he wanted to paint this Mini, his answer was no surprise. Since the last one is a color I'll call "Thomas the Tank Engine Blue", for the new one he chose a color I dub "Minecraft Green" – actually Duratrax Rally Green.
After we bought the paint, Jules decided he wanted a police car… Hmmm, ok I guess I could return this green paint, but a quick internet search for "Mini Cooper Police Car" yielded this:
For some more excellent police cars (including a Porsche 911 in similar livery) see The World's Finest Police Cars.
I like that Mini, plus the green is spot-on. I found the perfect decal set from screenprintdigital on ebay: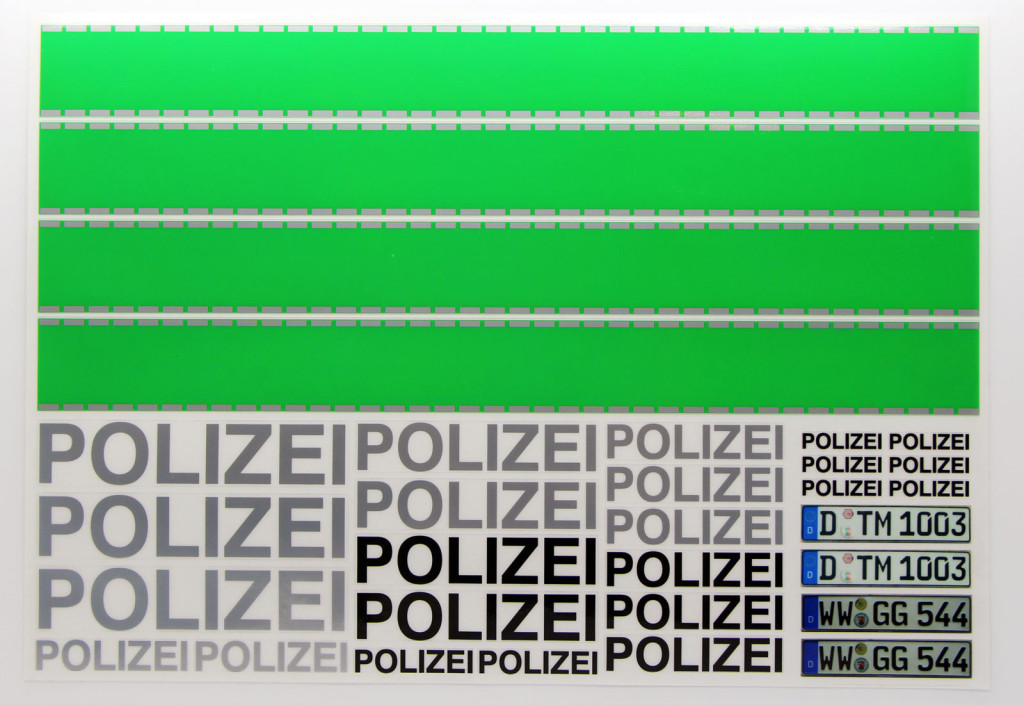 Then I just needed to add some blue lighting treatment, which I got from HobbyKing:
Putting it all together, I decided to paint a green stripe on the car as well as use the embellished green stripe decals. I figured it's just a matter of when (not if) those decals get bashed off. It's nice to have a little back-up color underneath plus it was simple enough to mask and paint. Turned out pretty good I'd say:
I tried the light buckets for this body instead of using the flat decals like I did on the first Mini. I painted the lights red and amber with some acrylic paints applied with a brush, then backed them with some silver spray-paint.
The police lights are plugged into the 3rd channel of the receiver. I incorrectly received a set that only came with a 2-wire setup that just alternates through the different flashing patterns as soon as you turn the car on. I received a replacement 3-wire set that can be activated with the auxiliary 3rd channel button on even the cheapest 3-channel. Check it out:
Now I just need to get Jules up to actual chasing speed, right now it's a little like Smokey and the Bandit and Jules is playing the part of 'Little Enos.'
We put both minis on the track on Sunday at the Twin Cities On-Road Club event at the Cottage Grove Armory. The goal for both kids was improvement. Throughout the qualifying races Jules was consistent but not fast. His cousin Reese however was showing improvement throughout the day, and began putting several laps on Jules.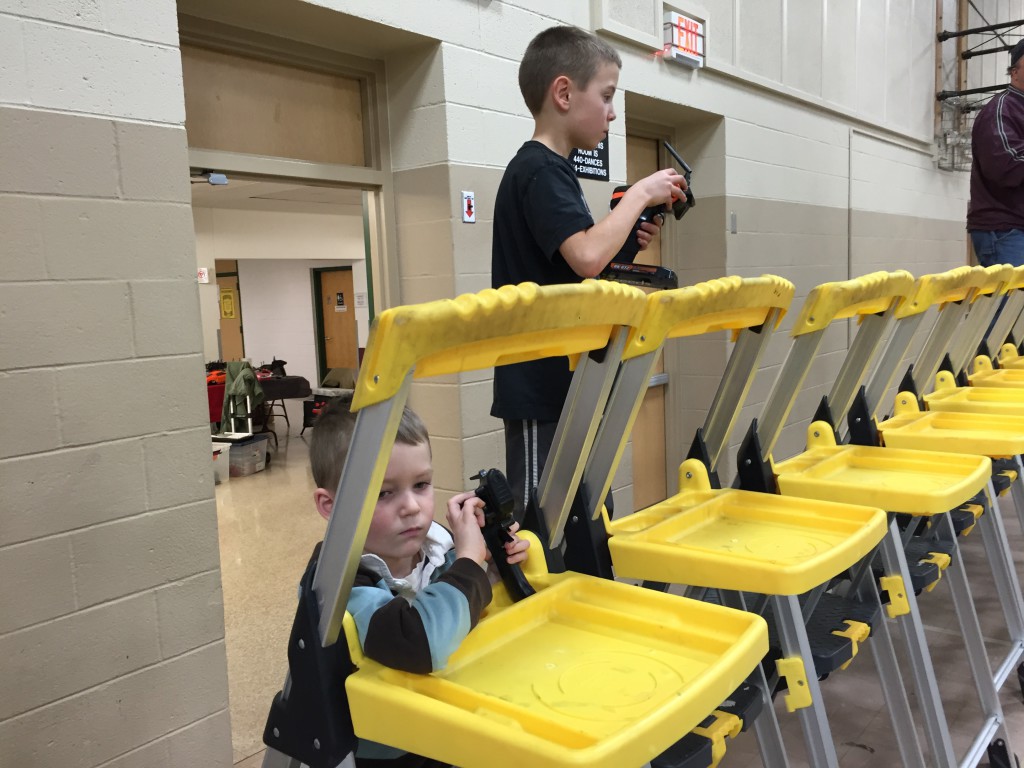 At the end of the day, the race director let the two battle it out, mano a mano, in the Mini B-Main "Kid Battle Royale" race.
While Jules didn't improve greatly on his lap times during qualifying, being consistent and persistent paid off… By 4 minutes into a 6 minute race, Reese was ahead by 3 laps, a shoe-in for the win. But at the 4½ minute mark Reese hit the boards hard and broke a suspension arm, which made one of the front wheels basically fall off.
Devastated, Reese wanted to try and finish the race on 3 wheels. The race director and I both agreed that his race was over. But was the 1½ minutes left enough time for Jules to reclaim the lead and ride to victory?
With some lap times approaching half a minute, it was going to be close. Myself, the race director, the turn marshals, and everyone else in the room began willing Jules to drive fast, stay straight, don't crash, and win. Jules managed to reclaim the 3 laps, add 2 more and finished victorious as the room cheered his first win. The best part about it was he turned his fastest lap of the day on the very last lap of the race. Improvement!