After a full year of my son and I racing our 2wd Slashes in the "Spec Slash" class, I wanted to record everything we've broken, fixed, upgraded, and replaced. I'll also include a setup sheet of what we landed on being a fairly consistent indoor off-road carpet track setup.
Spec Slash rules differ by track, so check with your local track(s) before you buy anything. Some allow replacing stock plastic parts with RPM brand replacements, some do not. If you race at multiple tracks, better to error on the side of caution and stick with stock parts. I've included both parts here for reference.
Broken, bent, lost, etc.
These are parts we've had to replace because we broke them or even just lost 'em somewhere…
The most disappointing thing about the Slash so far has definitely been the included Traxxas 2075 Servo. My son's died within a week of taking the truck out of the box. Traxxas thankfully sent a replacement. The replacement ultimately died as well, several months later. We're now both on TrackStar TS-900 servos, one of which also died shortly after installation. HobbyKing sent a replacement and we've been good since. If there's one place you want to put some money, a quality servo would be a safe bet.
Things we haven't yet broken after a year (knock on wood) but could probably stand to have extras of:
Tuning Parts
Every Slash is ready-to-run out of the box, but these are the extras we like for Spec Slash racing.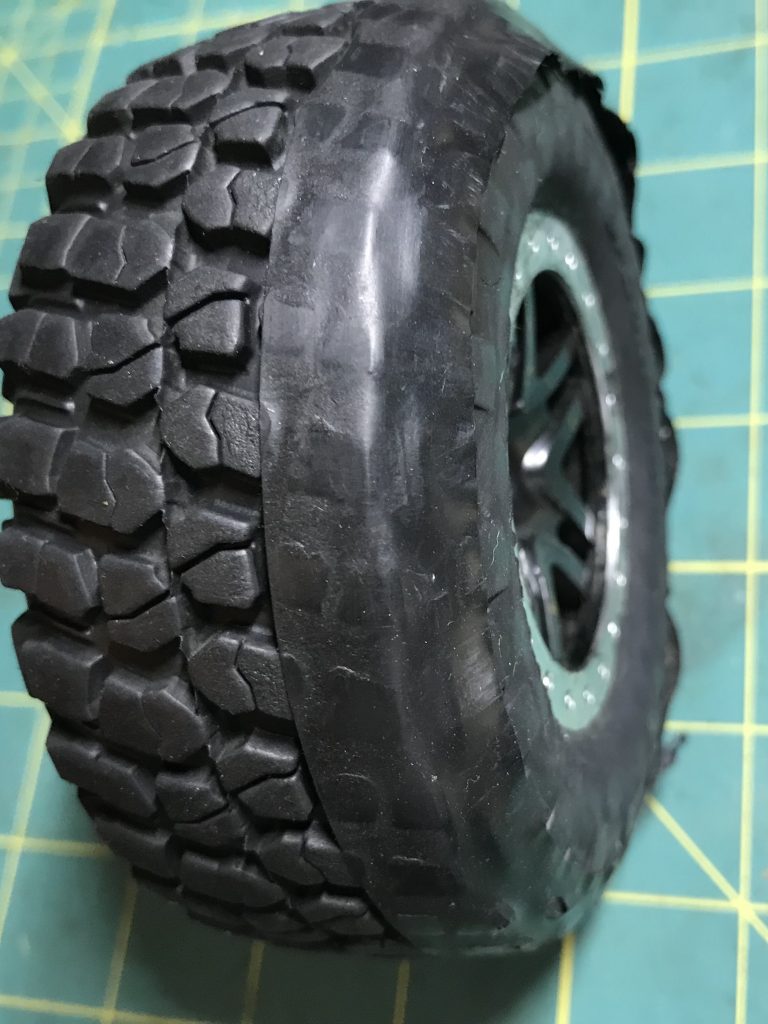 Radio Setup
For a radio, I use my old Spektrum DX3R Pro – but I have very few settings changed on it. Brake and Steering Rates are set to 100%. I have the steering endpoints cranked up to go as far as the TS-900 servo will let me (130%). I added 5% steering expo to deaden it a little in the middle.
My son likes his stock Traxxas TQ transmitter. One thing I noticed is that he would often overcorrect on his steering inputs. The current TQ radios don't have any steering rate or endpoint adjustments. They also have a tiny steering wheel. I designed an adapter to put a standard foam touring car wheel/tire on his transmitter which is 62mm in diameter compared to the stock 48mm wheel.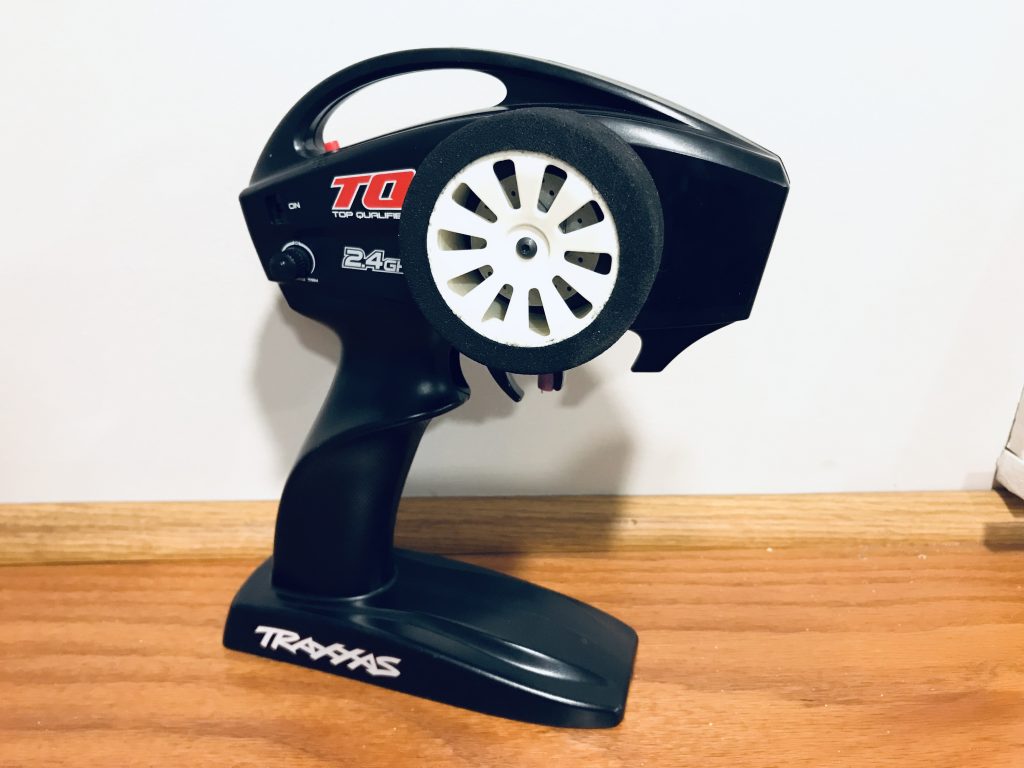 He physically has to move the outside of the wheel further to achieve the same amount of steering input. He likes it and it seems to be helping smooth out the steering.
I acquired a bunch of nitro (foam) wheels to use for this purpose that I sell for $11. This is a fantastic upgrade for kids or anyone who prefers a larger wheel.
Suspension Setup
This is where you can do the most tuning. I was able to cut to the chase by asking the track owner at MMR what the preferred setup was. His base recommended settings were:
Front:
One Hole Piston (one of the extras included with the truck)
Slash 4×4 Front Springs
50wt shock oil
Rear:
Two hole piston (installed stock)
Stock Rear Springs
45wt shock oil
To this setup I added one of the short JConcepts shock spacers to the inside of each shock. This lowers the truck by 3.25mm front and rear. I tried both 700cSt front / 550cSt rear and 600cSt front / 500cSt rear shock oil setups. My son had the softer 600/500 setup first and I noticed his truck was landing jumps much nicer – mine was too stiff. I switched over to 600cSt front / 500cSt rear shock oil and I'm pleased with where it's at.
Results
Here is a setup sheet for carpet.
Spec Slash Indoor Carpet Setup Sheet
We've had good results with that setup, including a couple podiums.
The best part is, it is hard to not have fun racing these trucks. Even if we aren't running at the front of the pack on a given race day, they're still a blast to drive.
Even if you get all RPM replacement parts, everything in this list, including the base model 2wd Slash can be had for about $550. This covered us for a full year(!) of racing. Doing that with any other platform is impossible. The only thing I haven't included is a battery charger – but you might have one already. If not take a look at these iSDT and iCharger options.
If you've got any Spec Slash setup tips you think we've missed, please share them in the comments!