Every year my family travels out of the frozen wasteland of Minnesota to Texas, usually around Thanksgiving. If flights are cheap, we'll fly down. If not, the road-trip is on! I personally like the road trip because it means I can bring some extras along which usually means my bicycle and a couple of RC cars.
Since we'd be driving through Dallas on US-75, we stopped at Traxxas HQ in McKinney.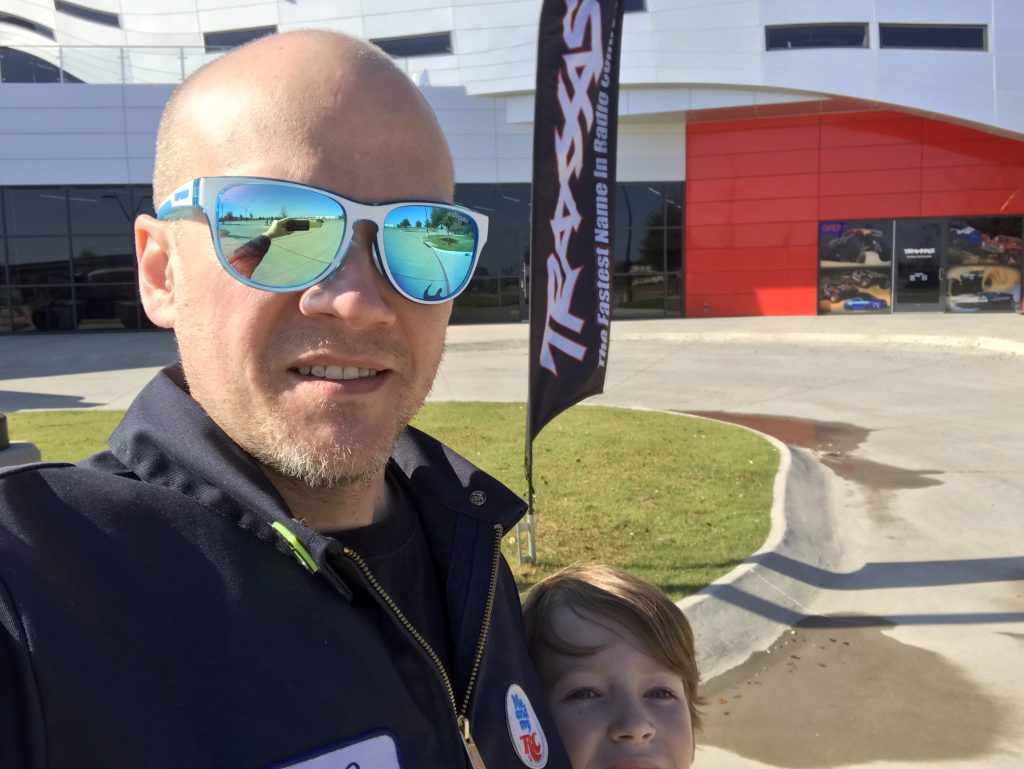 This Thanksgiving I decided that my son and I would bring our Slashes to run at Mike's Gulf Coast Raceway in Porter, TX. I had run my VTA car at their on-road track years before and wanted to check out the dirt this time around.
Everything in Texas is bigger. In Minnesota we race primarily 1/10 scale indoors. In Texas it seems like 1/8 scale outside is the norm. A Slash has roughly the same wheelbase and dimensions as a typical 1/8 scale eBuggy. This would ensure our vehicles are approximately the same size as everyone else on the track.
So we packed up the Slashes and hit the road. We drove to Oklahoma in one day so we could have a shorter drive the second day, and some downtime before racing at 6pm Saturday night.
An aside about RC track websites
To find out if we could get some practice time in before the race, I called the shop while on the road. I was informed that racing had been moved up from 6pm to 3pm because it was getting cold at night. Oh boy, these guys would be floored to know how late in the season the Southern Minnesota RC Club runs outside – their last race was a high of 48°F.
I was more than a little miffed about the racing schedule change. To hopefully confirm, I went to to the Mike's Gulf Coast Raceway Facebook Page. Before I go on, let me say:
👏 FACEBOOK 👏 Is 👏 Not 👏 A 👏 Website!
At my local track, they don't have a great website, but they have an actively maintained calendar. At Mike's, several clubs organize the racing whether it's for on-road, off-road, or oval racing. There's a pinned post on the track page with consolidated information from those clubs, but it's obviously not up-to-date, as it still said 6pm the day after we raced at 3pm: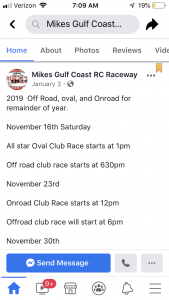 Turns out that I needed to join yet another Facebook group to get the inside scoop: Mike's Gulf Coast RC Racer's Lounge 🤦
Lemons or Lemonade?
Learning that racing was starting 3 hours earlier than planned left me pretty sour, but I like to stay positive, so I tried to turn it into lemonade 🥤
We drove straight to the track with no downtime, and arrived at 2:45pm – right before racing started. No time for even some practice laps, just put it on the track and get racing.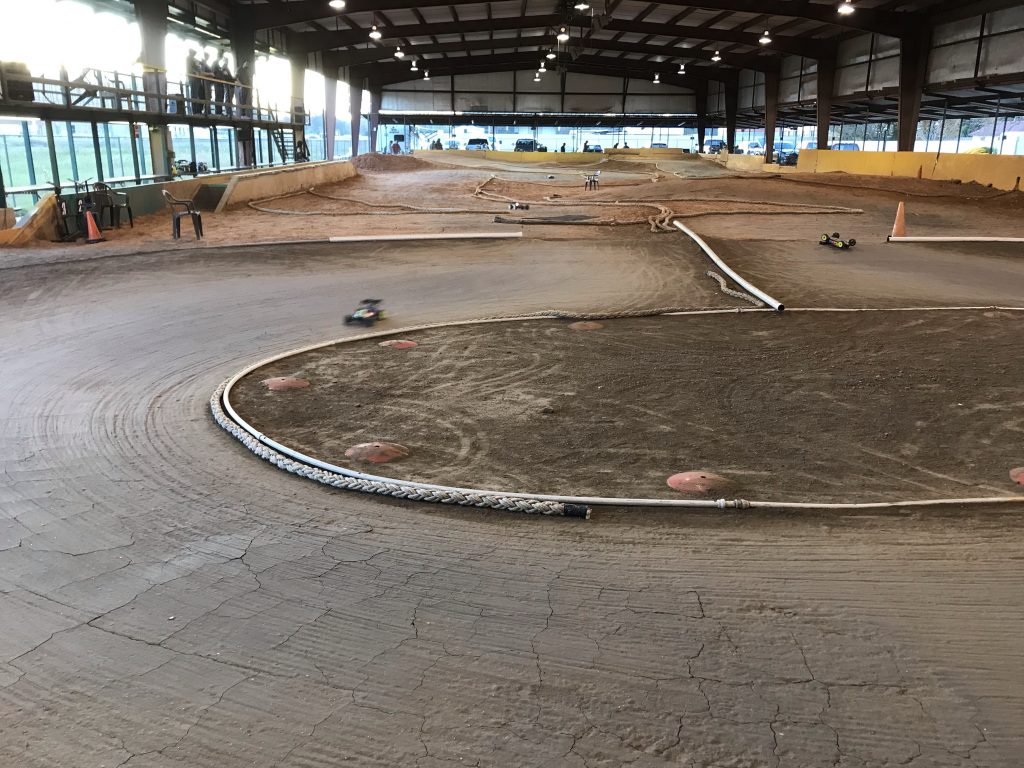 We wound up running in the C-Main group of the eBuggy class. I had outfitted our Spec Slash trucks with 13.5T brushless motors and ESCs to hopefully clear the jumps on the big 1/8 scale course.
The run-up on the jumps wasn't long enough for our 2wd vehicles to get traction and build enough speed. So we treated the two jumps (and their landings) as four humps, and tried to keep all 4 wheels planted the whole way around.
The trucks had plenty of power, but not enough grip to match. Also our suspension setup (dialed for carpet) left much to be desired. Our trucks were bouncing through the rough stuff rather than soaking up the bumps. While we were trying keep our trucks pointed straight with so much power but so little grip, we wound up at the back of the pack.
In the C-Main I did manage a 32-second hot lap, my best of the night. I managed to best some of the laps of all of the other 1/8 buggies in the main except the top C-Main driver. Granted my fast lap was probably only faster when other eBuggy drivers were getting marshaled. However, consistency and not getting marshaled is always a big part of the RC racing game.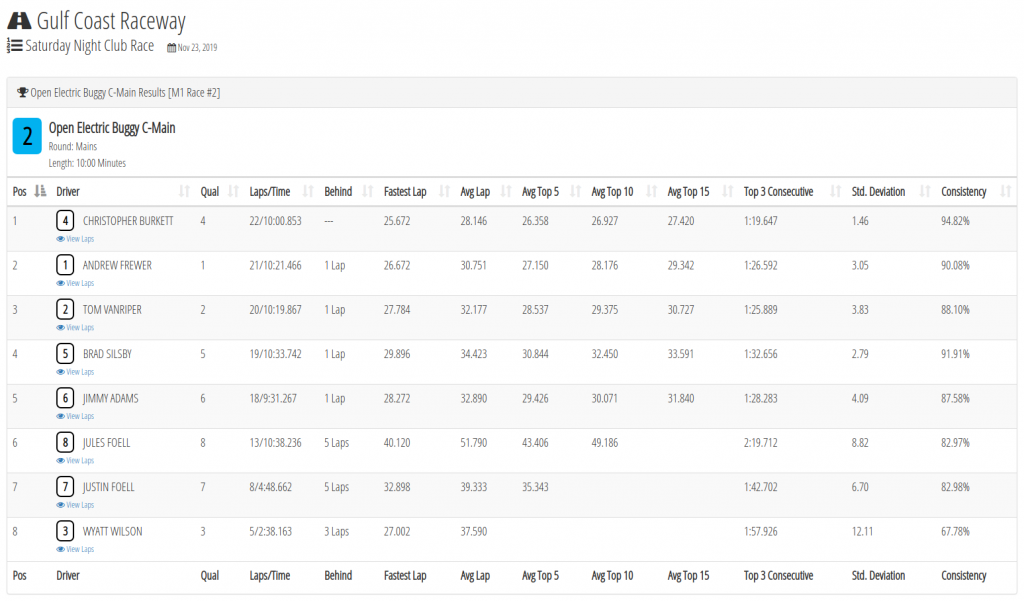 Here's where it gets embarrassing. I had two batteries for my truck so I could charge one and race with the other then swap 'em out. I charged my battery for the main, but forgot to do the swap. So I managed my best lap on a half-charged battery 👍
Then I noticed my truck was going much slower. Was it having a mechanical problem? No it just seemed slow. I was running at half-speed. The ESC was telling me it was coming up on low-voltage cut-off. I got a couple laps in at half speed and then had to pull it off the track during the race as it crawled to a stop.
It was a bummer, but I got to watch Jules pass me and finish his race strong. I'd like to come back next year, hopefully with a backslash setup (Slash converted to buggy). For sure I'm bringing my 1/8 scale wheel/tire setup for this track.
Hope to see you out there!