This is an anecdote addendum to my story arc as an RC driver. I'm still not great, but I'm getting better, and in the last month I earned three 2nd place spots at club races 🏆 I'm going to be honest about how I wound up there, but it's really a commentary on consistency.

Speed
When I first started racing as an adult, I just wanted to rip around the track as fast as possible – walls, parts, and competitors be damned! I had to slow down before I could speed up. I switched my touring car from USGT to a VTA spec car where speed is easier to keep under control. I was steadily seeing my best lap times improve as I got better, but I was still at the back of the pack.
Then, as I was marshalling one day, I came to a realization that the top finishers always give themselves a buffer. They carefully pass, and give themselves extra space around corners. Are they leaving an extra 1/10th of a second on the table? Probably. Is it worth it? No. The time it takes to recover from even tapping a board is going to be at least a tenth of a second. The time it would take to get marshalled is more like 10 seconds.
I watched one racer (who was not the top qualifier), slowly and steadily climb from 3rd to 1st in the main – not by having the fastest lap times, but through a total lack of crashing.
Consistency
I had somewhat plateaued in my lap times, but I'm not quite ready to go out and buy a $100 motor. I needed something to work on personally to claw my way up – consistency. I started playing Virtual R/C when I couldn't get to the track. You know what's annoying (purposely) in VRC? Having to press the spacebar to marshall yourself back onto the track. So I slowed down and gave myself more of a buffer.
When I went back to the track I set a personal goal:
Race an entire qualifying heat or main without needing a marshall.
The first night I told myself this, I managed to put in a session needing only one marshall. It's amazing what you can accomplish if you just put your mind to it.
Results
So how did I wind up in 2nd? I'm going to be honest, in a few cases guys who were faster than me did not start or finish due to mechanical issues. So in theory I should have been fighting for 3rd place. But there's something to be said about being consistent – if you're hitting fewer things, you're breaking fewer parts so you can show up to race and finish in the main.
In this race, you can see the 3rd place finisher clearly can turn faster laps than I can. His fastest lap was almost a full second faster than my fastest – he was even faster over his top 15 average. But we didn't race 15 laps, we raced for over 30 and consistency allowed me to go ahead.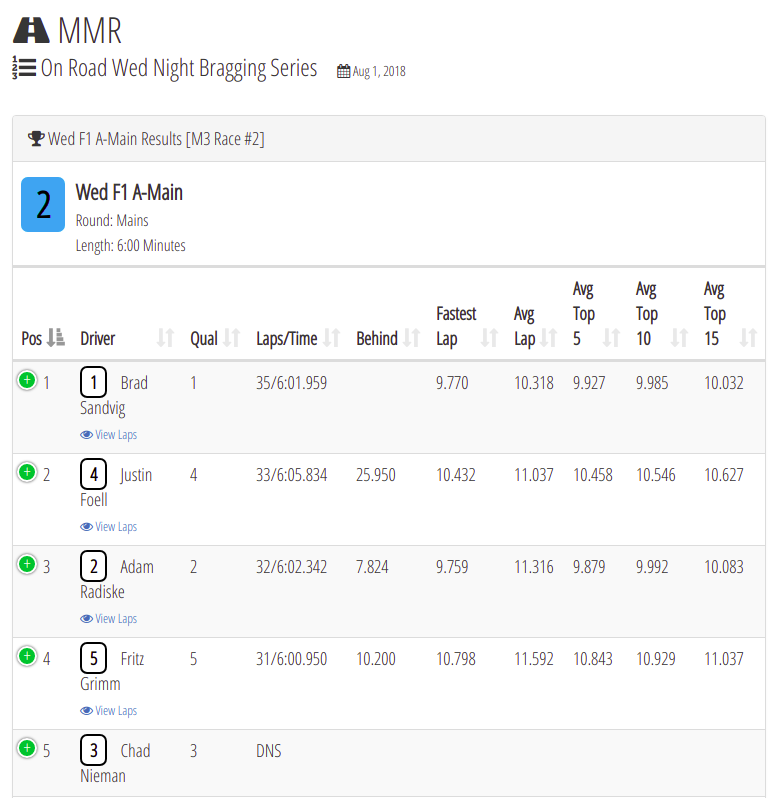 With a top driver in this race (actually the TQ driver) not starting, I should have at least finished 3rd since I qualified 4th. But by being consistent throughout the race and minimizing my marshalling needs, I was able to earn a higher spot on the podium.
In this last race my fastest lap time was 5th out of 7 competitors. From the 15 laps I put in, 10 of them were 30 or 31-second laps. That's still not fast, but by being consistent I was able to pass several people that were waiting to get marshalled after crashing. This allowed me to move up from my 5th place qualifying spot into 2nd.
Mental Setup
The next time you're feeling frustrated about how you're driving (and placing), take a race day to only focus on the mental aspect of driving. Make sure your car is set up good enough to drive, but don't obsess over it. Instead, put your energy into your driving. Set a goal of only getting marshalled a few times in a heat, then one, then none. You'll be surprised how your driving habits will change and how going a little slower will actually make you faster.